Halloween Sex Offender Laws Are Unjustified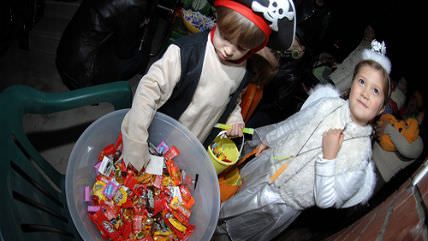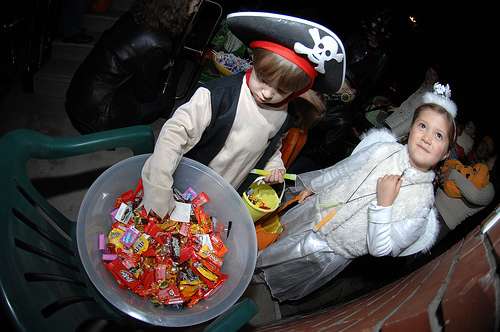 Kids aren't the only ones letting their imaginations' fears run wild on Halloween: parents, politicians, and police officers across the country are continuing to support laws that ban registered sex offenders from participating in Halloween, despite evidence that these policies are unnecessary and harmful.
Illinois is one of the latest states to implement a ban: its Child Sex Offender Holiday Costume Prohibition law, which will apply for the first time this Halloween, prohibits registered child sex offenders from handing out candy or keeping their home lights on during the holiday celebrations. To enforce the law, police plan to drive around offenders' homes during trick-or-treating hours to monitor for compliance.
The law is similar to many others already on the books in dozens of small towns, cities, and other states. In New York, Operation Halloween forbids registered sex offenders from leaving their homes during designated hours, wearing costumes, or participating in "any Halloween activity." In Virginia, offenders on probation* in certain districts are required to attend city-organized meetings during the festivities, which offer "educational sessions" and mandatory drug and alcohol screenings. Those are just a few.
The motivations for Halloween sex offender laws are clear: as a local police sergeant said of the new Illinois law to the Quad-City Times, they help "give parents peace of mind."
But peace of mind from what? Their imaginations? There is virtually uncontested evidence that registered sex offenders pose no heightened threat on Halloween. As Scott Henson noted in 2008 at Grits for Breakfast, which covers the Texas criminal justice system:
Kids trick or treating are more likely to be hit by lightning while going door to door than they are to be abducted by a registered sex offender.

There's only one [documented] case in the history of the planet where a child was abducted by a stranger while trick or treating (in Wisconsin in 1973). In that instance, the killer had no prior record and wouldn't have been on any sex offender registry even if it had existed.
Additionally, as explained by Reason's Jesse Walker, a 2009 study in Sexual Abuse: Journal of Research and Treatment analyzed child sex crime rates and found "no significant increase in risk for non-familial child sexual abuse on or around Halloween." This was corroborated by a 2010 study, which analyzed crime statistics from 30 states and determined, "There is zero evidence to support the idea that Halloween is a dangerous date for children in terms of child molestation."
But while Halloween sex offender laws are based on unjustified fears rather than reality, they cause real harm.
Andrew Extein, a psychotherapist writing for the Huffington Post, said of his experience with registered sex offenders:
The consequences of such ordinances are grave. Parole violations, recidivism, vigilante justice, and even suicide are very real threats that offenders face. One offender in a therapy group that I facilitated was cited as violating parole during Operation Boo for having kids clothing in a suitcase deep in his home, which he claimed belonged to his wife who has children. This violates his parole and resulted in 30 days of jail time. Last year, a Napa County man hung himself with a bed sheet in his jail cell the day after he was arrested for possession of a knife during a Halloween sweep.
Lest any parents claim that these costs are worth bearing for the possibility of saving even one child, the 2009 study in Sexual Abuse also found that child victimization rates "did not vary across years prior to and after [the registered sex offender] policies became popular." In other words, the laws don't even make a dent in curbing the barely existent problem.
*The article orginially misreported that all registered sex offenders in certain Virginia districts are prohibited from participating in Halloween. Only registered sex offenders on probation are subject to the bans.