David Cameron Threatens Newspapers Publishing Snowden Leaks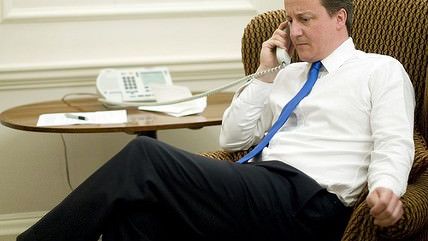 (The Prime Minister's Office / Foter.com / CC BY-NC-ND)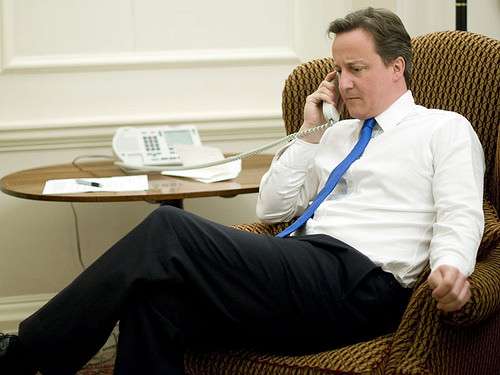 British Prime Minister David Cameron has made a scary statement about the publication of Edward Snowden's revelations.
From Reuters:
Oct 28 (Reuters) – British Prime Minister David Cameron said on Monday his government was likely to act to stop newspapers publishing what he called damaging leaks from former U.S. intelligence operative Edward Snowden unless they began to behave more responsibly.

"If they (newspapers) don't demonstrate some social responsibility it will be very difficult for government to stand back and not to act," Cameron told parliament, saying Britain's Guardian newspaper had "gone on" to print damaging material after initially agreeing to destroy other sensitive data.
It is worth remembering that British officials already threatened The Guardian, which has been publishing stories relating to Snowden's leaked documents, with legal action if servers containing copies of the information Snowden provided were not destroyed. Officials justified the move by claiming that Russia or China could hack into the servers and access the documents. Technicians from the British Government Communications Headquarters (GCHQ) oversaw the destruction of the servers last July, despite the fact that Guardian editor Alan Rusbridger had told government officials that copies of the information were stored outside of the U.K.
The news of Cameron's comments come days after NSA Director Gen. Keith Alexander said that "We ought to come up with a way of stopping" reporters from "selling" secrets.
Thankfully, it is unlikely that any government action in the U.K. is going to stop the information leaked by Edward Snowden from being revealed. As Rusbridger told British government officials, copies of the information is stored outside the U.K.
The latest NSA revelations have damaged the Obama administration's relationship with some Europeans. It has been reported that the NSA monitored tens of millions of Spanish and French phone calls and that German Chancellor Angela Merkel's cell phone was targeted.
The reporting since the latest NSA news reveals that the U.S. government doesn't have its story straight when it comes to the NSA's activities. After last week's news relating to Merkel's cell phone being targeted White House Press Secretary Jay Carney denied that the Obama administration was targeting Merkel's phone saying, "The president assured the chancellor that the United States is not monitoring and will not monitor the communications of the chancellor." However, reporting from the German Bild am Sonntag newspaper, based on information provided by U.S. intelligence officials, suggests that Obama did know about surveillance on Merkel's phone, but that he only found out about the snooping in 2010 after being personally briefed by Gen. Alexander.