Primary Challengers Circling Around Justin Amash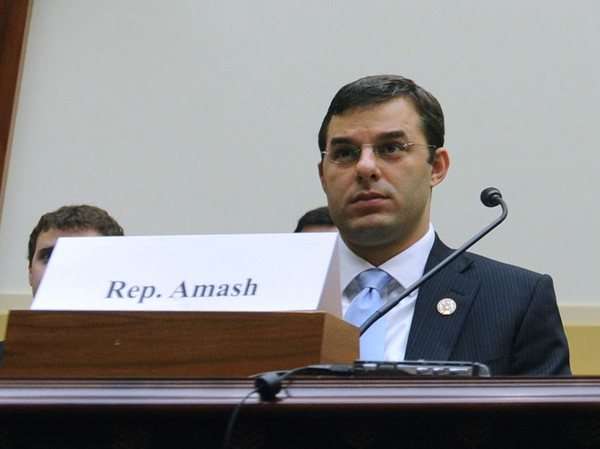 The Washington Post has an article today about primary challenges against House Tea Party conservatives, best exemplified by Liberty Movement darling Rep. Justin Amash (R-Grand Rapids):
Within Grand Rapids' powerful business establishment, patience is running low with Amash's ideological agenda and tactics. Some business leaders are recruiting a Republican primary challenger who they hope will serve the old-fashioned way — by working the inside game and playing nice to gain influence and solve problems for the district. They are tired of tea party governance, as exemplified by the budget fight that led to the shutdown and threatens a first-ever U.S. credit default. […]

Some prominent business leaders are lining up behind investment manager Brian Ellis, according to several GOP operatives here. […]

State Sen. Mark C. Jansen, seen as a pragmatic Republican, also is weighing a challenge to Amash, said Deb Drick, his chief of staff. "We get frequent calls from people encouraging Senator Jansen to run," Drick said. "There's got to be a reason he's being approached so much."

Meg Goebel, president of the Paul Goebel Group, an insurance agency, said she is "really, really unhappy" with the leading role Amash has played in tying the health-care law to overall government funding.

"I don't see him as a collaborator, and I think that's a huge problem," Goebel, a former chair of the Grand Rapids Chamber of Commerce, said. "People used to say, 'I don't like the Congress, but I like my congressman.' I don't think that's the case anymore." […]

Here in Amash's Grand Rapids district, several well-known executives who are said to have promised their support to Ellis did not respond to requests for interviews. But Katie Packer Gage, a former senior aide to [Mitt] Romney and a Michigan GOP operative, said, "The business community in Grand Rapids has been completely disenchanted with Amash."
Amash spokesman Will Adams told the Post, "We're not worried." More on the subject from Detroit News columnist Nolan Finley. Amash's position on the government shutdown, by the way, is that a
"Clean CR" spends ~$20B more than authorized under #sequester for fiscal year. Rs will accept Ds' spending if they'll compromise elsewhere.
Reason on Amash here, including this Nick Gillespie interview: