Government Shutdown: Good for the Economy, Say 1990s Results
Tim Cavanaugh at Daily Caller with some counterintuitive to most results from Clinton-era government shutdowns: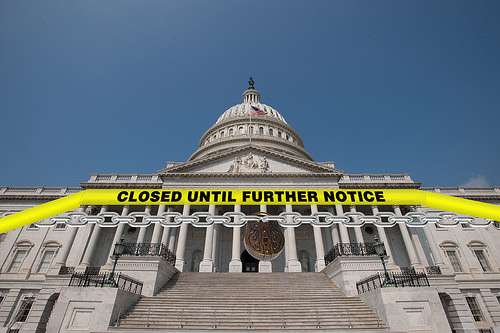 The spending gaps of the Clinton presidency occurred from November 14 through November 19, 1995 and from December 16, 1995 to January 6, 1996.

Despite the greatly ballyhooed furloughs of government employees

, unemployment stayed even at 5.6 percent during November 1995, the period of the first spending gap….

actually dropped to 5.5 percent during the second spending gap, which was more complete than the first.

Unemployment continued to plummet in the months following the shutdown, as a hamstrung Clinton allowed the rate of government

spending increases to slow….According to the Bureau of Labor Statistics, unemployment dropped half a percentage point within a year of the first shutdown and had dipped below 5 percent by the spring of 1997.
And how about some other measures of economic health?
gross domestic product increased during both quarters covered by the Clinton-era shutdowns. According to the Bureau of Economic Analysis, GDP began the fourth quarter of 1995 at $7.7 trillion and ended the second quarter of 1996 at $7.9 trillion. By the end of the second quarter 1996 GDP had topped $8 trillion.

Personal consumption expenditures, gross private domestic investment and personal income

also increased during and immediately after the shutdown.

The GDP numbers are particularly striking because government

spending is given outsized weight in GDP measures, which assume that every dollar in federal spending results in a full dollar's worth of economic activity. Nevertheless, GDP continued to climb despite the suspension of transfer payments.
Past results are no guarantee of future performance and all that, but every day in America 300 million people wake up with needs and another 300 million people (mostly) wake up with skills and abilities to help meet those needs, and that makes for an economy that, if unimpeded, should be expected to get some things done.