Miami Beach Police Sued Following Death of Tasered Teen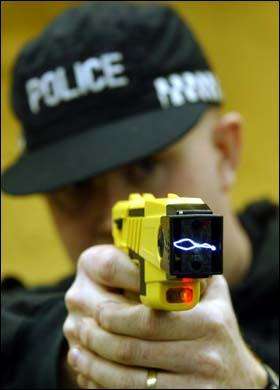 The Miami Beach Police are being sued by the family of teenager who died after being tasered by officers.
The Huffington Post reports:
Israel Hernandez, 18, was scrawling graffiti on an abandoned, paint-covered McDonald's on the morning of August 6 when he was spotted by police. More than half a dozen officers joined in a seven-minute chase that ended when Officer Jorge Mercado shocked Hernandez in the chest.

Friends told WSVN that officers shoved Hernandez against a wall, then high-fived as he lay motionless. An emergency transcript from the incident suggests that about half a minute after announcing Hernandez was in custody, officers noticed he appeared to be having a seizure.
Hernandez was pronounced dead at the hospital. Officer Mercado was placed on paid leave.
The lawsuit contends that the officers used excessive force against Hernandez, whose graffiti crime amounted to no more than a second-degree misdemeanor. It argues that because of Hernandez's slight build and his lack of any weapon demonstrated that the police "had no reasonable basis to fear for their own safety or the safety of the public." The suit names the city and Police Chief Ray Martinez as defendants.
Todd McPharlin, an attorney representing the teen's family, said, "the City of Miami Beach and Miami Beach Police do not properly train or supervise their police officers in the use of force, including the use of a Taser weapon." and that they are unprepared to provide medical attention to someone experiencing the weapon's effects, according to The New York Times.
The plaintiff's lawyer also asserted that the Miami Beach Police are incapable of effectively investigating themselves. According to Reuters, the Florida Department of Law Enforcement is conducting an independent review of the incident.