"'Stop or I'll shoot,' is not the law of the land": New Hampshire Cops Shoot Man Fleeing Their Attempted Drug Buy Sting in Head, Kill Him
Good editorializing from the Concord Monitor on a recent New Hampshire police execution of a drug suspect–one they got to try to sell drugs to cops: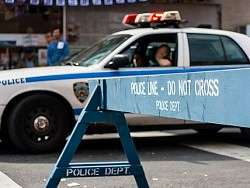 The Weare police and Attorney General Joe Foster, who is investigating the fatal Aug. 14 shooting by two Weare officers of a fleeing suspect, have some explaining to do. The suspect "failed to stop when he was told to stop. As a result, a chase ensued," Senior Assistant Attorney General Susan Morrell said of Alex Cora DeJesus, a 35-year-old Manchester resident with a history of arrests for dealing small quantities of drugs. DeJesus was the target of an undercover sting near a Dunkin' Donuts in Lanctot's Plaza on Route 114 in South Weare.

Press releases issued by the attorney general's office confirmed that several Weare officers and two confidential informants participated in the sting operation and that DeJesus's death resulted from a gunshot to the head. The authorities have not, however, explained what prompted the officers to fire on DeJesus, whether he was armed, or if he possessed illegal drugs. It is also unclear whether DeJesus was fleeing on foot when he was wounded or in the vehicle he drove away and crashed with police officers in pursuit.

Thorough investigations take time, but in this case, at a minimum, the attorney general's office needs to inform the public about police policies regarding the use of deadly force.

"Stop or I'll shoot," is not the law of the land. Law enforcement officers may not fire on fleeing suspects, or known criminals for that matter, simply to prevent them from getting away. Deadly force may only be employed when an officer needs to defend him- or herself or a third party from the imminent use of deadly force, or to prevent the escape of someone the officer believes will seriously endanger human life if not apprehended without delay.
Illegitimate police shootings or assaults happen nearly every day, and you can read about some of them here at Reason.