What It Takes to Get a Sheriff Arrested in Florida: Accusations of Record Tampering For Not Wanting to Arrest Someone for Alleged Gun License Violation
Very interesting story of what causes higher-ups to arrest a sheriff out of Florida (though even here he has not been officially fired, merely suspended without pay).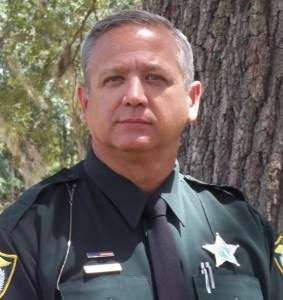 It's been ongoing for a while, but brought to my attention today by this interview with arrested Liberty County Sheriff Nick Finch, from Ben Swann's site. Finch says he was arrested, essentially, for respecting Second Amendment rights.
That interview doesn't really get in to the specifics of why he was arrested from the perspective of those doing the arresting–rest assured that "respecting the Second Amendment" isn't the official charge–but this account from The County Record.net does:
Suspended Liberty County Sheriff Nick Finch is gaining media attention across the state, maintaining he was right to release a man brought to the jail this spring. 

As previously reported, the man was arrested following a routine traffic stop. During the stop, the deputy spotted a firearm on the seat next to the man and asked him to step out of the vehicle. He then noticed a bulge in the man's pocket and discovered he had a gun jammed inside. However, the man didn't have a concealed weapons permit.

Controversy arose after Sheriff Finch let the man go. His arrest file was being prepared by Sgt. Lisa Smith at the Liberty County Jail where the man was being detained in a holding cell. Finch says he told her via phone not to book him. 

Sgt. Smith says Finch took the arrest file with him upon releasing the man and she hasn't seen it since, resulting in a charge for destroying public documents.

Finch says he never took any file out of the jail.
Finch's explanation of what he believes happened that night, from the Swann site interview:
The deputy arrested [Floyd] Parrish for "failure to maintain the lane". Upon stopping Parrish he was not drunk, or under the influence of any drugs. I myself have traveled that same road many times. It is a single lane and is crumbling. I have gone off the road there multiple times.  Regardless, Parrish told the deputy that he did have a weapon. The deputy the arrested him for not having a licence. Sadly, we do not have cameras on the patrol cars, so it is really the deputy's word against Parrish's as to whether or not his driving warranted a stop.  
As local TV station WTXL reported, Finch was "removed from office in early June 2013 after being arrested by Florida Department of Law Enforcement. Agents with FDLE say Finch destroyed jail documents related to a person who was arrested for carrying a concealed weapon without a permit."
So: if you are accused of record tampering in a case where you chose not to punish a citizen for a tiny harmless possible gun law violation, the full force of justice is going to slam down on you. How often do sheriffs, or any cop, get peremptorialy arrested for permitting or facilitating actual harm to or violation of the rights of a citizen?
Finch's trial will begin in late September. County Record also reports he was offered a deal if he'd just resign, which he refuses to do.