60 Percent of Americans Oppose Plastic Bag Ban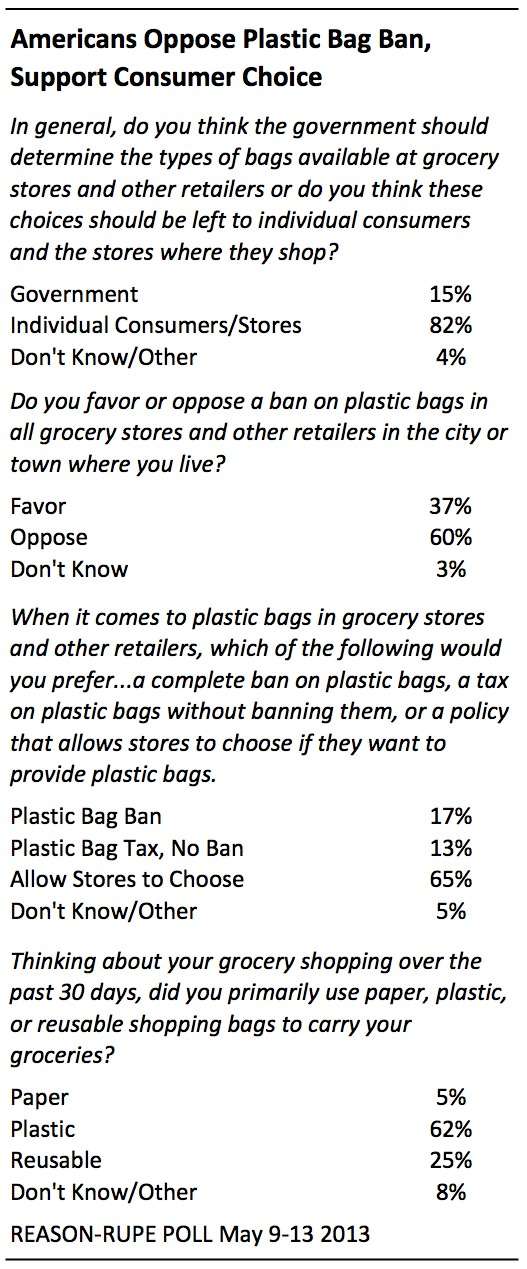 While dozens of city councils throughout the US ban single-use plastic bags, such as Los Angeles CA, Washington DC, Austin TX, Reason-Rupe finds 60 percent oppose a ban on plastic bags in all grocery stores and other retailers in the city or town where they live.
When asked differently, 65 percent favor a policy that allows stores to choose if they want to provide plastic bags or not. Seventeen percent would continue to favor a complete ban on plastic bags and 13 percent would favor a tax on plastic bags without banning them.
Framed using different terms, 82 percent thought that when determining the types of bags available at grocery stores, "choices should be left to individual consumers and stores." Fifteen percent thought government should primarily determine the types of bags available. These data suggest that thinking about plastic bag bans in terms of personal choice reduces support for the ban.
According to the poll, 25 percent of Americans primarily use reusable shopping bags to carry their groceries. Among them, 50 percent favor a ban on plastic bags while 48 oppose. Nearly two-thirds of Americans (62 percent) say they primarily use plastic bags when grocery shopping and 66 percent of them oppose a plastic bag ban. Interestingly 31 percent of those who primarily use plastic bags say they would support a ban.
Nationwide telephone poll conducted May 9-13 2013 interviewed 1003 adults on both mobile (503) and landline (500) phones, with a margin of error +/- 3.7%. Princeton Survey Research Associates International executed the nationwide Reason-Rupe survey. Columns may not add up to 100% due to rounding. Full poll results found here. Full methodology can be found here. Demographics and detailed tables are available here.