Announcing Reason Reader Picks for the Top 10 Enemies of Freedom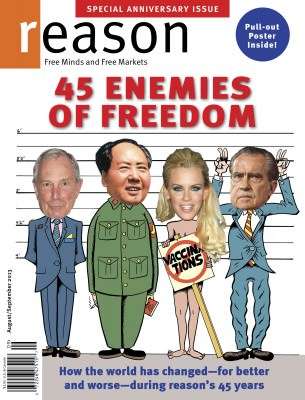 To celebrate Reason's 45th anniversary as a monthly magazine, yesterday we named our 45 Enemies of Freedom, a motley crew of politicians, despots, intellectuals, crackpots, and crony capitalists who have done their utmost to make the world worse since 1968.
We also asked you, the readers, to name your own enemies. Nearly 300 of you rose to the challenge, with a total of 1,800 nominations.
Without futher ado, here are the winners and their vote tallies:
Barack Obama (165)
Michael Bloomberg (87)
Nancy Pelosi (61)
Eric Holder (46)
George W. Bush (40)
John McCain (36)
Dianne Feinstein (34)
Harry Reid (30)
Lindsey Graham (25)
Hillary Clinton (22)
Honorable mentions go to The American Electorate, My neighbor, Complacency, skim milk, and Matt Welch.