Washington State Legalized Pot Over Seven Months Ago. Now It Wants the Obama Administration to Respond.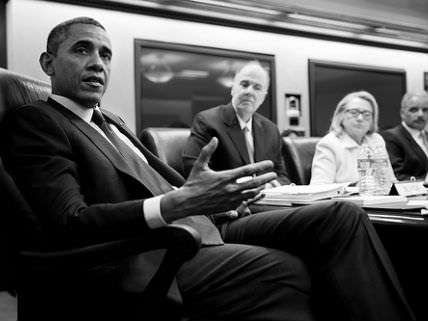 It's been 230 days since residents in Washington state and Colorado voted to legalize recreational marijuana, and the Obama administration still hasn't announced how it will respond. Congressional delegates from Washington aren't happy about that.
Last week the delegation sent a letter to the Justice Department, in which they asked for a tolerant plan of action and reminded the Obama administration that its failure to respond is creating uncertainty for businesses and lawmakers.
"We urge DOJ to announce its decided course of action as soon as possible, to provide legal certainty for our citizens, businesses, and lawmakers," the letter reads. "Both Washington and Colorado have already invested significant human and fiscal resources to establish the regulatory and taxations systems necessary to see the positive impact of our laws.
"Simultaneously, businesses looking to enter this new market and invest in and add jobs to our economies, are seeking the security that your decision would provide. Further delay will slow the potential for economic advancement and could lead to wasted resources, two outcomes that can be avoided with a prompt announcement by DOJ."
Democratic Rep. Adam Smith sent the letter; its signatories include Democratic Senators Maria Cantwell and Patty Murray, as well Democratic Reps. Suzan DelBene, Dennis Heck, Derek Kilmer, and Jim McDermott. (Democratic Rep. Rick Larsen and the three Republicans in the Washington delegation declined to sign the letter.)
"We hope that you will exercise your significant discretionary authority by choosing not to pursue preemption of these laws, or prosecute our residents and state employees acting in compliance with these laws," says the letter, which was also sent to Senate Judiciary Committee Chair Pat Leahy (D-Vt.) and House Judiciary Committee Chair Bob Goodlatte (R-NC).
Between the NSA scandal, the battle over immigration reform, and Obama's anticipated announcement about climate change tomorrow, the prospects for a comprehensive response to legal pot in Washington and Colorado seem more and more remote.
Read the whole thing below.
Washington State Delegation's Letter to Eric Holder about Marijuana Legalization (June 2013)