The Maine House Just Voted Down a Marijuana Legalization Bill
LD 1229, a tax-and-regulate bill, just lost in the Maine House by four votes, according to NORML.
Dan Riffle of Marijuana Policy Project: "The vote was incredibly close though. 71-67; closest any legislative chamber has ever come to passing a legalization bill."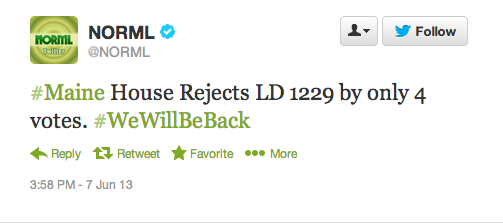 Maine Rep. Diane Russell announced a week after Colorado and Washington voters approved tax-and-regulate initiatives that she would introduce similar legislation in the Maine House. That legislation was roundly criticized in committee, including by legislators who approved Maine's medical marijuana program. According to the Bangor Daily News, legalization advocates will still push for a 2016 ballot measure.