Vermont Gov. Peter Shumlin Just Signed Marijuana Decriminalization Into Law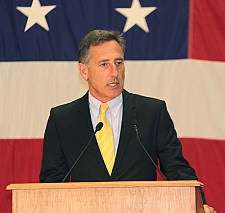 Congratulations, Vermonters! Your governor just signed legislation decriminalizing the possession of up to an ounce of marijuana. The Burlington Free Press reports:
Vermont is now the 17th state to get rid of criminal penalties for the possession of small amounts of marijuana.

Gov. Peter Shumlin signed a measure into law Thursday.

The law replaces criminal penalties with civil fines similar to a traffic ticket for possession of up to an ounce of marijuana or five grams of hashish.

The law also treats possession of such amounts of marijuana by people under age 21 the same as underage possession of alcohol, including referral to court diversion for a first offense, potential civil penalties and/or license suspension, and criminal penalties for a third violation.
The Vermont legislature approved decrim on May 13.