L.A.'s New Mayor Is OK With Legalizing Marijuana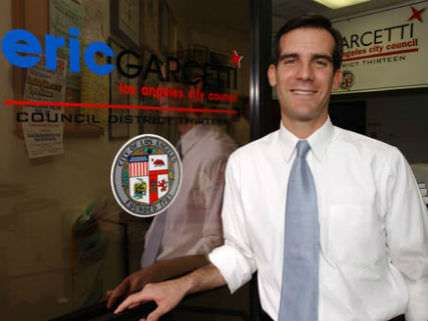 Los Angeles City Councilman Eric Garcetti, who was elected mayor last week on the same day that voters approved a cap on the number of medical marijuana dispensaries in L.A., says he would be OK with legalizing the plant for general use:
During a short interview with Univision's Jorge Ramos on Sunday, Garcetti was asked if he thought pot use should be legalized for casual use….

Marijuana was important for medicinal use, he said. "But if in the future, California's voters want it for casual use, for me, it's not a problem."

He went on to suggest that enforcement of marijuana laws was diverting law enforcement from more important tasks.

"I want to use the police department's resources for more serious crimes, but they are usually tied up in these crimes that aren't as important," Garcetti said. "Still, it would need to be decided by a state-wide vote."
In 2010 Californians rejected a marijuana legalization measure, Proposition 19, by a seven-point margin. Last year voters in Colorado and Washington approved legalization by a margin of more than 10 points in both states.
Addendum: Tom Angell notes that Garcetti made similar comments before the election.
[Thanks to Richard Cowan for the tip.]