Liberal Nonprofit Groups Actually Love Corporate Cash, Wall Street Simoleons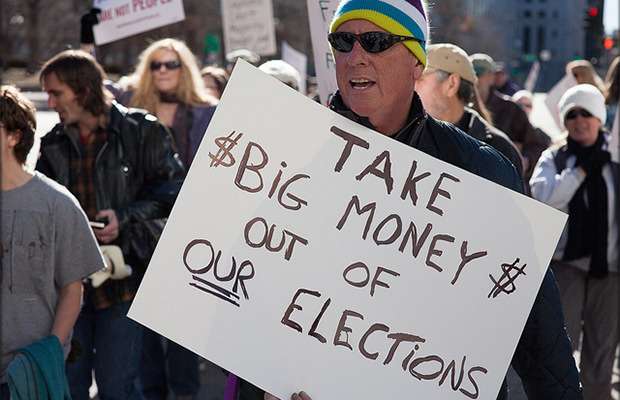 During the 2012 election, the Democratic PAC American Bridge attacked Mitt Romney and other prominent Republicans every time one of them attended a "high-dollar fundraiser" or revealed close ties to Wall Street. Yet there was one group that American Bridge never attacked: Bain Capital.
Why? Because, as Ben Smith and Evan McMorris-Santoro revealed today, Bain Capital executives were bankrolling American Bridge:
[I]n January, as Romney's nomination — and the line of attack — became clear, American Bridge's top fundraiser took a stand. In a series of meetings through the first half of 2012, several people close to the group confirmed, fundraiser Mary Pat Bonner demanded that the group avoid any public attacks on Bain. That's because, two sources said, two top Bain executives are key contributors to the network of organizations maintained by Brock and Bonner, which includes Media Matters and American Bridge. And some familiar with the group's work say it deliberately pulled public punches against Bain — though not against Romney — through much of the year.

"Anything that was discussed doing publicly in regard to Bain, even if it were just a quote piling on, was either shot down immediately, or there was a question, 'Could Mary Pat be OK with this?' And the answer was always no," said one person privy to the group's internal conversations. The group's political staffers were "unhappy" about the conflict — but accepted it and tried to work around it, the source said.
May is shaping up to be a bad month for nonprofit groups run by David Brock. Last week, a few of his allies on the left raked him over the coals after the advocacy arm of Media Matters for America published a memo defending the Justice Department's crusade against the Associated Press. Today, BuzzFeed drops the hammer with their story about Bain. Being called out as a hypocrite is so embarrassing!
But Brock et al. may actually be the lesser of the two "dark money" offenders to be unmasked today. The other is the Center for American Progress, which is up to its neck in corporate cash, reports The Nation's Ken Silverstein:
A confidential CAP donor pitch I obtained describes the Business Alliance as "a channel for engagement with the corporate community" that provides "the opportunity to…collaborate on common interests." It offers three membership levels, with the perks to top donors ($100,000 and up) including private meetings with CAP experts and executives, round-table discussions with "Hill and national leaders," and briefings on CAP reports "relevant to your unique interests."

CAP doesn't publicly disclose the members of its Business Alliance, but I obtained multiple internal lists from 2011 showing that dozens of major corporations had joined. The lists were prepared by Chris Belisle, who at the time served as the alliance's senior manager after having been recruited from his prior position as manager of corporate relations at the US Chamber of Commerce. According to these lists, CAP's donors included Comcast, Walmart, General Motors, Pacific Gas and Electric, General Electric, Boeing and Lockheed. Though it doesn't appear on the lists, the University of Phoenix was also a donor.

Incidentally, Scott Lilly, a Hill veteran who joined CAP in 2004 as a senior fellow covering national security, simultaneously served as a registered lobbyist for Lockheed between 2005 and 2011. Rudy deLeon, CAP's senior vice president for national security and international policy, was a Boeing executive and directed the company's lobbying operations between 2001 and 2006, before joining the think tank the following year.Several CAP insiders, who asked to speak off the record, told me that when Podesta left, there was a fear that contributions would dry up. Raising money had always been important, they said, but Tanden ratcheted up the efforts to openly court donors, which has impacted CAP's work. Staffers were very clearly instructed to check with the think tank's development team before writing anything that might upset contributors, I was told.
I obtained a March 2012 e-mail from Belisle to Podesta and CAP's communications and legal teams, which was also copied to Tanden. The e-mail noted a Think Progress item featuring a New York Times op-ed by former Goldman Sachs executive Greg Smith, who called the company's environment "toxic and destructive." At the time, the firm was under heavy fire for deceiving investors and for its larger role in driving the speculation in toxic securities that unwound the economy. Belisle said he was "flagging" the item for Tanden since she had recently met with Michael Paese, director of Goldman's Washington lobbying office. Two sources told me that Goldman Sachs subsequently became a donor. Purse and Paese declined comment.
You can find lots of stories bemoaning the influence of "dark money"–the soylent green of the nonprofit world–on CAP's ThinkProgress blog. But you probably won't find the one above.