Police Shoot Dog and Actually Compensate the Family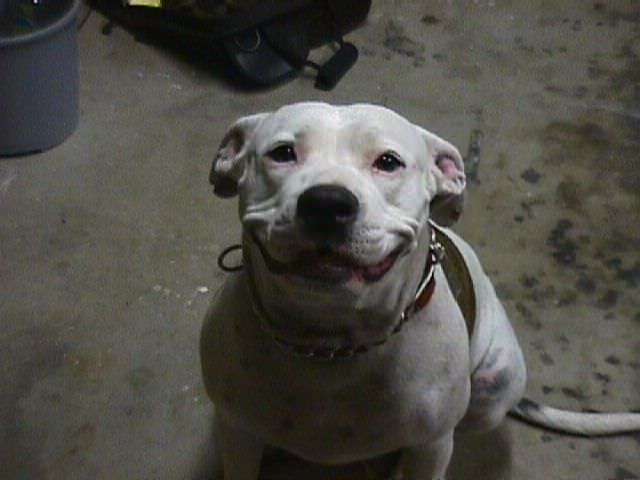 For everybody tired of hearing about police officers shooting family dogs for no good reason, here's a story about … police officers shooting family dogs for no good reason, splattering a little girl with her beloved pets' blood — and then actually paying damages. That's right, the city of Minneapolis agreed to pay $225,000 to James and Aisha Keten, though only after a judge suggested that officers came a tad too close to plugging a toddler in the process of handling a search warrant very, very badly:
From The Journal:
Officers on April 13 were conducting a search warrant, looking for an assault rifle they believed was used by James Keten's brother Lamont to shoot a woman eight days earlier.

Officers were warned that four potentially aggressive pit bulls were in the home, and also that children would be present.

First, one officer shot a 60-pound pit bill mix named Kano. The officer testified that the dog charged him.

Keten alleges that officers hand-tied him and beat him, but a hospital could find no bruises or injuries to Keten.

Another officer, Chad Fuchs, went into the kitchen where the couple's 3-year-old daughter was eating breakfast. The Kenten's allege that Fuchs fired several shots close to the girl, including ones that killed a 40-pound pit bull-German Shepard mix named Remy. Remy was sitting near the feet of the girl. Remy's blood splattered on the girl's pajamas, and the girl has since been diagnosed with post-traumatic stress disorder. She regularly sees the therapist.

Aisha Keten attempted to rush into the kitchen to grab her daughter, but police restrained her in the bathroom, where she had been getting ready for work.
In terms of the timing of the dog-shootings, an earlier Minneapolis Star-Tribune story points out that the warrant the police had required them to knock, but they barged in instead and "[a]s soon as the officers entered the house, they shot and killed one dog, Kano, in the living room, then moments later fired 'multiple, hollow-point rounds towards the kitchen table, killing another of the Keten's dogs,' Remy, that was lying beneath the table."
That earlier story suggests that police staged a dynamic raid specifically intending to shoot the dogs. It also notes that the city acknowledged that Fuchs, who killed the second dog, could see the three-year-old girl sitting at the table her dog was under, and fired anyway.
They never found the rifle they were looking for, by the way, and the Ketens faced no charges.
Note: That's neither Kano nore Remy pictured above (I couldn't find photos of them), but another example of the scary breed supposedly represented by those dogs.
(H/t Enough About Palin)