Every Federal Agency Has Some Fat. Here's How to Cut It.
A lesson from the National Drug Intelligence Center and the White House fear factory.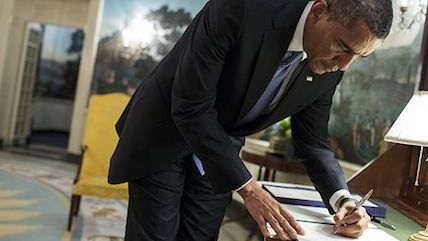 (White House Flickr Feed)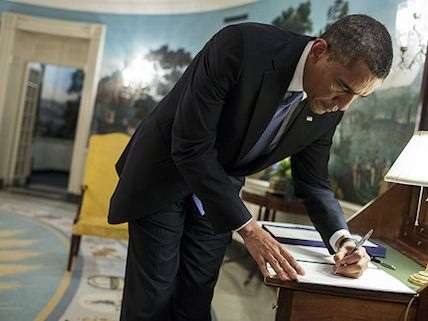 When the Department of Justice announced in early 2012 that it was closing the National Drug Intelligence Center in Johnstown, Pennsylvania, the state's delegation to D.C. gave the White House—and their colleagues in Congress—an earful. "The Obama Administration's decision to close Johnstown's National Drug Intelligence Center is 100 percent wrong," read a statement from Republican Sen. Pat Toomey. The decision was "extremely disappointing" to Democratic Sen. Bob Casey. "We should be outraged," wrote former Democratic Rep. Mark Critz.
Outside the Pennsylvania delegation, no one cared. Democrats and Republicans alike (though especially Republicans) long considered the 19-year-old, scandal-plagued NDIC a huge waste of time and money; more than anything, a reminder of former Democratic Rep. John Murtha's ability to funnel hundreds of millions of dollars worth of pork back to Pennsylvania's 12th district. President Bush tried to close it four times. Sen. Tom Coburn wanted it shut down. The DEA thought it was a joke. The Office of National Drug Control Policy and the Office of the Director of National intelligence didn't need it or want it. And so, after much wrangling, Republicans in the House gave the National Drug Intelligence Center and its backers two options: No money and a closing date of late 2011, or $20 million and a closing date in 2012. The NDIC took the money and closed on June 15, 2012.
The agency briefly returned to the news after I reported that the Office of Management and Budget had released a report after the NDIC closed saying that sequestration would hurt the center's $20 million budget. On March 1, the OMB did it again. After confirming with the DOJ that the NDIC is not in danger of losing any money, because it does not exist (a product, the DOJ says, of the OMB basing its sequestration reports on the FY 2012 budget), it occurred to me that the National Drug Intelligence Center can still teach us something. Because even though the center was a scandal-plagued waste of space, time, and cash created by a notoriously unethical politician, the NDIC is also evidence that this presidential administration knows how to cut an agency's budget without hamstringing it.
Let's rewind: After Republicans won the House in 2010, the NDIC knew it was headed for a fight, and prepared accordingly. According to Rep. Critz, the NDIC worked with Democrats from Pennsylvania and the Office of Management and Budget to come up with a FY 2012 budget request for $25 million—$19 million less than what the NDIC had received the year before.
Here's how the NDIC proposed cutting its own fat:
By curtailing "administrative and overhead costs, including travel, vehicles, and IT expenses, as well as other management efficiencies," the NDIC was able to reduce its FY 2012 budget request by $8 million.
By "focusing NDIC's intelligence analysis efforts on key reporting needs" and "eliminat[ing] non-critical intelligence and analysis expenses," the NDIC was able to reduce its budget request by $5.9 million.
The elimination of unfunded positions and the "savings associated with attrition, reducing TDYs, and other staff-related activities" helped the NDIC save another $5.3 million.
While the NDIC's offer to cut its $44 million budget by 43 percent failed to placate critics of waste and pork, the fact that the agency was able to come up with $19 million in savings is pretty instructive for the debate over sequestration. Even more instructive? When it came time for the DEA to absorb that part of the National Drug Intelligence Center most essential to collecting drug intelligence, it picked up just under 60 employees.
One wonders what the other 180 or so were doing; and which other federal agencies could find a sensible way to reduce their own budgets if they were facing a guillotine instead of a barber's shears.