2010 Albuquerque Police Shooting of Kenneth Ellis III Ruled Unconstitutional
Judge says constitutional rights of Iraq War veteran were violated when he was shot by a cop during a crisis negotiation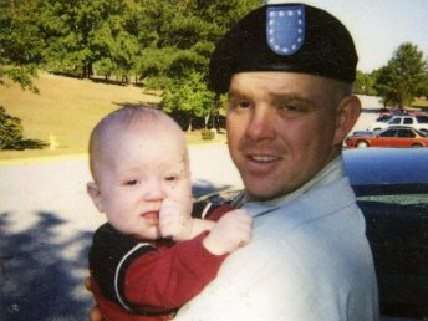 The police department in Albuquerque, New Mexico came under investigation by the federal Department of Justice last November after there had been 17 fatal police shootings since the shooting of Iraq War veteran Kenneth Ellis III on January 13, 2010. That shooting has now been ruled as a violation of Ellis' rights in a federal lawsuit the family is pursuing. From the local CBS affiliate:
In 2010 Albuquerque Police Department Officer Bret Lampiris-Tremba killed Kenneth Ellis Jr. outside a Northeast Heights convenience store.

Ellis, an Iraq war veteran suffering from post-traumatic stress disorder, was pointing a gun at his own head and negotiating with a crisis-intervention officer when Lampiris-Tremba suddenly shot him.

The city independent review officer ruled he should not have fired, but the citizen review commission later ruled the shooting justified.

However, at a hearing Wednesday on a lawsuit filed by Ellis' family, District Judge Shannon Bacon ruled that Ellis posed no threat to anyone and that the shooting violated his constitutional rights.
The Albuquerque Journal has a response from the city attorney:
"Detective Lampiris-Tremba and the City are disappointed in Judge Bacon's ruling. We firmly believe the issues in this case should have been submitted to a jury for its deliberation and judgment. Prior to discharging his weapon, Detective Lampiris-Tremba reasonably perceived an imminent threat of deadly harm from Kenneth Ellis who was armed. Due to the fact that there are remaining issues going to trial, the City believes it would be inappropriate to comment further at this time."
And from CBS News, other reasons the DOJ is probing the police department:
In addition, the Albuquerque Police Department has been plagued in recent months by a number of high-profile cases alleging excessive force by officers, including some cases caught on video.

One video showed officers giving each other celebratory "belly bumps" after beating a suspected car thief in a parking garage. Another clip showed an officer illegally entering an apartment and using a stun gun on one suspect, then punching another suspect after he had surrendered.

The department also changed its social media policy involving officers after a detective shot and killed a man last year and listed his occupation as "human waste disposal" on his Facebook page. The detective was later suspended and transferred out of the department's gang unit to field services.
Ellis' father also met with DOJ officials after their investigation began in November.