Denver Suburb Requires Pot Growers to Install Equipment While Forbidding Them to Bring It Home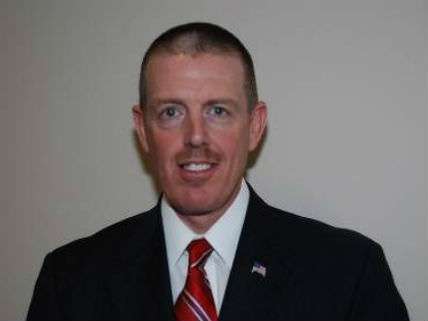 Last week I noted that Greenwood Village, a Denver suburb, had passed an ordinance purporting to ban marijuana possession on city property, including streets and sidewalks, even though Amendment 64, the ballot initiative approved by Colorado voters in November, says possessing or transporting up to an ounce is "not unlawful and shall not be an offense under Colorado law or the law of any locality." Reason Foundation research assistant Andrew Livingston points out that Ordinance 43-12, which bans public possession of "marijuana accessories" as well as marijuana, conflicts not only with Amendment 64 but also with another anti-pot ordinance that the Greenwood Village City Council is on the verge of passing.
Since December 10 it has been legal for Colorado residents 21 or older to grow up to six marijuana plants for personal use or to share with friends. Alarmed at that prospect, the city plans to "restrict the indoor cultivation of marijuana to ensure the safety of Greenwood Village residents and mitigate negative impacts to neighbors and the surrounding community." Toward that end, Ordinance 1-13, which received preliminary approval on January 7, restricts the size and location of marijuana grows as well as the equipment used in them. It also requires "a ventilation and filtration system designed to ensure that odors from the cultivation are not detectable beyond the property line…and to prevent mold and moisture and otherwise protect the health and safety of persons residing in the residence."
But Ordinance 43-12 prohibits what Ordinance 1-13 requires, since it bans public possession of "marijuana accessories," defined to include "any equipment, products, or materials of any kind" used to grow cannabis. That means home growers cannot legally install the ventilation system the city says they must have, since doing so would require using Greenwood Village's streets to transport its components. The city's residents also cannot legally transport seeds or seedlings, soil, fertilizer, lights, or anything else they might need to cultivate the plants they are allowed to grow in their homes under Amendment 64.
It seems safe to say that Greenwood Village, which does not allow medical marijuana dispensaries and has pre-emptively banned the recreational cannabis stores that are supposed to start opening in Colorado next year, is not a very pot-friendly place. Leslie Schluter, the city council member who introduced the ban on public possession and the prohibitive restrictions on home cultivation, notes that most Greenwood Village voters opposed Amendment 64. But these two ordinances go beyond the local leeway allowed by Amendment 64, which says municipalities may ban marijuana sales within their borders, to attack personal possession and home cultivation, both of which are now explicitly protected by the state constitution.
Similarly, Greenwood Village Police Chief John Jackson, who serves on the criminal issues working group of the Amendment 64 Implementation Task Force, argues that home growers should be arrested if they possess more than an ounce of marijuana. But that is not what Amendment 64 says. In addition to removing penalties for possession of up to an ounce by anyone 21 or older, Amendment 64 allows home growers to possess "the marijuana produced by the [six] plants on the premises where the plants were grown." At a January 23 meeting of an Amendment 64 Implementation Task Force subgroup, Jackson rebelled at that notion, saying the implications are "appalling," "horrendous," and "ridiculous." He said he can't tell his officers to ignore what might be several ounces or even pounds of marijuana in someone's home because it comes from the six plants permitted by Amendment 64. He deemed that a "complete perversion" of the initiative's intent, even though that is what the amendment plainly says.
This sort of resistance against Amendment 64 may backfire for advocates of local control. The Amendment 64 Implementation Task Force is supposed to make its recommendations by the end of February, at which point the Colorado General Assembly will start considering what legislation is appropriate to make the initiative fully effective. While Amendment 64 allows local governments to ban pot stores, the question of exactly how much discretion they will have to regulate this new business and the behavior of pot growers and consumers is still up in the air. If legislators believe that city and county officials are trying to flout the will of the voters, they may be more inclined to constrain local authority and set policy at the state level.