Patrick Kennedy's Anti-Pot Group Pushes "Mandatory Marijuana-Education Program" for Recreational Users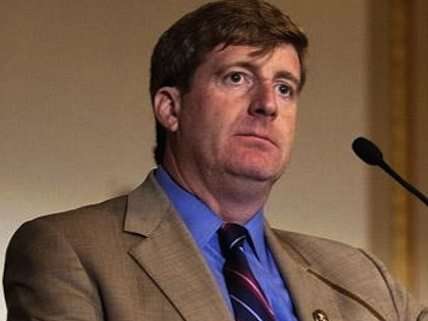 Project SAM, the anti-marijuana legalization group started by former Obama administration advisor Kevin Sabet and chaired by former Congressman Patrick Kennedy (D-Rhode Island), has unveiled its website and policy goals.
Topping the list is the recommendation "[t]hat possession or use of a small amount of marijuana be a civil offense subject to a mandatory health screening and marijuana-education program. Referrals to treatment and/or social-support services should be made if needed. The individual could even be monitored for 6-12 months in a probation program designed to prevent further drug use."
Kennedy announced his involvement with Project SAM, which stands for "smart approaches to marijuana," earlier this month. Sabet is on the organization's board, and president of the group's umbrella organization, the drug policy consulting firm Policy Solutions Lab. Newsweek/Daily Beast columnist David Frum is also on Project SAM's board.
While the group's existence has been public for less than a week, the Marijuana Policy Project has already called for Kennedy to resign.
"Former Congressman Patrick Kennedy is the chairman of Smart Approaches to Marijuana (SAM), a new national organization that wants to force marijuana consumers into treatment and subject them to mandatory health screenings and 'marijuana education' camps," reads a petition from the Marijuana Policy Project.
You can read rest of Project SAM's policy positions after the jump.
In addition to the mandatory education and monitoring for users, Project SAM advises:
That there is an end to the practice of "stop-and-frisk."
That no marijuana use in any form is permitted in public view.
That smoke-free laws apply to marijuana and tobacco.
That there is expungement of any personal record regarding possession of small amounts of marijuana.
For growers and sellers, Project SAM advises:
That they remain misdemeanors or felonies based on amounts possessed.
An end to mandatory minimum sentences so judges can exercise discretion under the law.
Assessment and mandatory treatment in prison for those who are addicted. Appropriate aftercare should be provided by service providers licensed by the state upon release.
Restoration of all civil rights once sentences have been served.
Services for re-entry into the community through Justice Reinvestment or similar programs, such as the Drug Market Initiative(DMI).
For drivers, Project SAM wants to see:
Driving with any amount of marijuana in one's system be at least a misdemeanor. Repeat offenses need harsher punishments.
Driving under the influence of any amount of marijuana result in a mandatory health assessment, marijuana-education program and referral to treatment or social services.
If/when a marijuana impairment level is established, driving with impairment or higher levels of marijuana in one's system be at least a misdemeanor. Repeat offenses need harsher punishments.
You can read more at the group's website, learnaboutsam.com.