Americans Embroiled in Criminal Justice System Numbers Actually Decreasing
We are still a largely over-arrested people, especially when it comes to "crimes" that harm no one except (possibly) the person committing them. But Keith Humphreys at the Samefacts blog draws our attention to a bright spot in our recent criminal justice system statistics: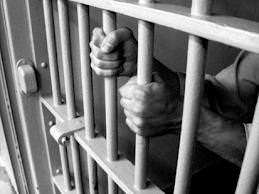 At the time of President Obama's inauguration, the incarceration rate in the United States had been rising every single year since the mid 1970s. The relentless growth in the proportion of Americans behind bars had persisted through good economic times and bad, Republican and Democratic Presidents, and countless changes in state and local politics around the country.

If a public policy trend with that much momentum had even slowed significantly, it would have been merited attention, but something far more remarkable occurred: The incarceration rate and the number of people under correctional supervision (i.e., including people on probation/parole) declined for three years in a row. At the end of 2011, the proportion of people under correctional supervision returned to a level not seen since the end of the Clinton Administration.
The Bureau of Justice Statistics fact sheet on this from late November, noting that most of the decline came not from people literally behind bars, but in the probation system:
Adult correctional authorities supervised about 6,977,700 offenders at yearend 2011, a decrease of 1.4% during the year.
The decline of 98,900 offenders during 2011 marked the third consecutive year of decrease in the correctional population, which includes probationers, parolees, local jail inmates, and prisoners in the custody of state and federal facilities.
About 2.9% of adults in the U.S. (or 1 in every 34 adults) were under some form of correctional supervision at yearend 2011, a rate comparable to 1998 (1 in every 34).
At yearend 2011, about 1 in every 50 adults in the U.S. was supervised in the community on probation or parole while about 1 in every 107 adults was incarcerated in prison or jail.
The community supervision population (including probationers and parolees, down 1.5%) and the incarcerated population (including local jail inmates and federal and state prisoners, down 1.3%) decreased at about the same rate in 2011.
The majority (83%) of the decline in the correctional population during the year was attributed to the decrease in the probation population (down 81,800 offenders).
Mike Riggs from October on four grim effects of prison overcrowding.