Why is Homeland Security Buying Vehicles for College Cops in Southwest Ohio?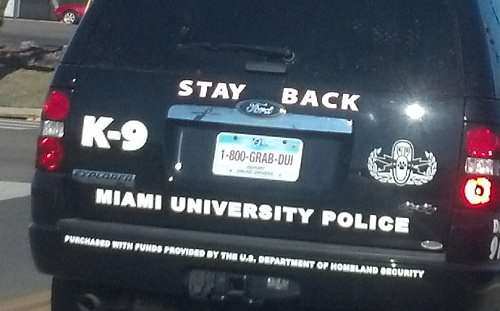 I snapped this picture in my part-time hometown of Oxford, Ohio. Oxford is home to Miami University, best known these days as the alma mater of failed Republican vice-presidential candidate Paul Ryan and bathroom Romeo Ben Roethlisberger of the Pittsburgh Steelers. Sen. Maria Cantwell (D-Wash.) went there and so did President Benjamin Harrison. And Weeb Ewbank.
So why is Homeland Security buying vehicles for college K-9 cops in a small town in southwestern Ohio?
Because it's a colossal waste of money, that's why.
Go here for more details on a solid decade of high costs and low yield.
Go here for more sad tales of wasted DHS money.
And watch "3 Reasons to Kill the Dept. of Homeland Security":