Last Call for Reason's 2012 Webathon! Please Support "Free Minds and Free Markets"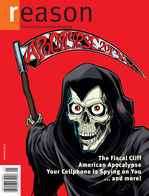 Feedback hasn't sounded this good since Jimi Hendrix was humping amplifiers and you accidentally mixed Rohypnol with meth and chased it down with a bottle of absinthe!
Click above to watch me and Matt Welch answer reader questions and queries as part of Reason's 2012 Webathon, in which we're asking 800 folks to support Reason mag, Reason.com, and Reason TV by making a tax-deductible donation.
And by feedback, I mean that both literally and figuratively. The first five minutes of the video above features ear-splitting, brain-damaging feedback that may just be the greatest found recording of the past 24 hours. More important, your generous support so far in the Webathon has been outstanding! We're well ahead of last year's pace and may even break the $100,000 barrier if the donations keep coming in today.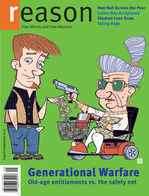 Our giving levels and associated swag range from $1 to $99 (shout-outs at Reason's Twitter stream and on the banner above) to $100 (classic black Reason t-shirt and free sub to keep or gift) to $5,125 (grab bag of Reason products, two free subs, t-shirt, lunch with Matt and me in D.C., commemorative tile in our new L.A. offices, V.I.P. ticket to our Bastiat Prize dinner in N.Y., and more!).
If you like what we're doing—bringing you the most provocative libertarian news and analysis on an hourly basis, cranking out great videos (usually with great audio!), publishing 11 issues a year of what's been called "a kick-ass, no-holds-barred political magazine," and fanning out across the news stations and op-ed pages of the naton's media to spread the word about "Free Minds and Free Markets"—then please support us. It's tax-deductible and you'll see your dollars at work every day at Reason.com.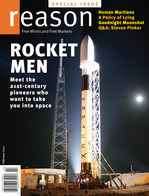 Nobody is doing what we're doing—creating a virtual community for libertarians, reaching peers in the media, generating 500-plus videos, a monthly magazine, conducting a national poll, curating the news on an hourly basis, and more—and your support is vital.
We know it's a tough economy and the political situation is a bed of nails, not roses. But that's precisely why Reason—and its true alternative to the tired old left-right, liberal-conservative, Democrat-Republican ideologies—is needed more than ever. We don't just unmask the problems with top-down control freaks in the boardroom and bedroom, we propose new and better ways of letting people run their own lives (imagine that—people running their own lives!). We're happy warriors against all who limit your choices in the name of their vision of the good life. And we're bringing you a world of possibilities, of new technologies and experiments in living that point to a better world.
Freedom is winning, slowly but surely, in many areas: Drug legalization, lifestyle choice, free expression. It's also on the ropes in so many others: Economic interventions large and small, military interventions large and small, health care regulations. Help us in our fight—your fight—for a limited government and unlimited possibilities. For Free Minds and Free Markets. For a world you'll be happy to leave to your heirs.