Today Pot Is Legal in Colorado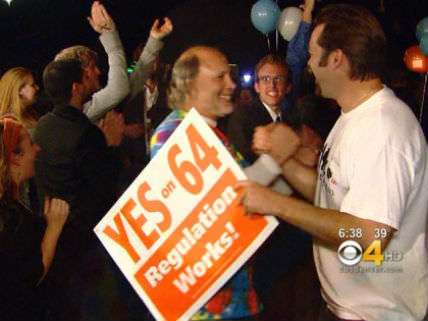 Today Colorado Gov. John Hickenlooper signed a proclamation recognizing last month's passage of Amendment 64, that state's marijuana legalization measure, meaning that all state penalties for possession of up to an ounce and home cultivation of up to six plants by adults 21 and older are abolished as of now. "Voters were loud and clear on Election Day," Hickenlooper said. "We will begin working immediately with the General Assembly and state agencies to implement Amendment 64."
Hickenlooper was referring to the parts of the initiative calling for a state-regulated system of commercial production and distribution. The Colorado Department of Revenue has until next July to write regulations for growers and sellers. Hickenlooper has appointed a 24-member Task Force on the Implementation of Amendment 64 to assist with that process.
In the meantime, Colorodans can grow their own and transfer up to an ounce "not for remuneration." By contrast, pot smokers in Washington, where a marijuana legalization initiative took effect last Thursday, won't have a licit source until pot shops licensed by the state liquor control board are up and running (sometime after next December, the deadline for regulations). Mason Tvert, co-director of the Yes on 64 campaign, comments:
This is a truly historic day. From this day forward, adults in Colorado will no longer be punished for the simple use and possession of marijuana. We applaud Gov. Hickenlooper for issuing this declaration in a timely fashion, so that adult possession arrests end across the state immediately.

We look forward to working with the governor's office and many other stakeholders on the implementation of Amendment 64. We are certain that this will be a successful endeavor and Colorado will become a model for other states to follow.
Yesterday Len Gilroy and Harris Kenny warned Colorado policy makers about potential pitfalls in implementing Amendment 64.