Milwaukee Cop Who Punched Handcuffed Woman in Face Reinstated Thanks to Police Bill of Rights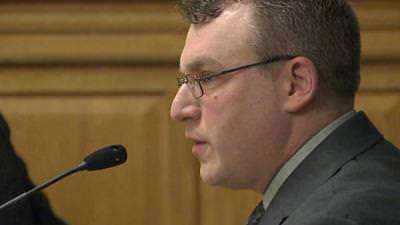 Milwaukee Cop Richard Schoen was fired in May of this year after his superiors saw a dashboard-camera video that shows Schoen climbing into the backseat of his cruiser to repeatedly punch a handcuffed woman in the face. He's now getting his job back despite the objections of Milwaukee's police chief and mayor.
According to a FOX 6 story published upon the video's release, Schoen arrested Jeanine Tracy for being "argumentative and us[ing] profanity" during a traffic stop. While in the backseat of the police cruiser, she yelled and stomped her leg, complaining that it hurt.
Upon arriving at the station, Schoen tried to pull Tracy out of the backseat of his cruiser by her shirt. When Tracy refused to move, Schoen went around to the other side of the car, climbed into the backseat, and began punching Tracy in the face. Schoen then dragged her out of the backseat of his cruiser by her hair. All of this was captured by Schoen's dash cam. (What was not captured, the department says, is Schoen kneeing Tracy in the stomach after getting her out of the car.)
Department higher-ups wasted no time firing Schoen for his behavior.
"The evidence was very strong and there was no reason to delay," Milwaukee Police Chief Ed Flynn told FOX 6 in May. "We took appropriate action, and now it will be in the hands of the review authorities."
Ah yes, "review authorities." Wisconsin, like almost every state in the country, has a special bill of rights for cops (read more about Police Bill of Rights here). One of the privileges it provides officers is a mandatory review of their termination; in this case, by Milwaukee's Fire and Police Commission. And do you know what that review concluded? That Schoen gets his job back.
From yesterday's report by Milwaukee's NBC 4:
The Milwaukee County District Attorney's Office told TODAY'S TMJ4 they got the case last year and they also consulted with the U.S. Attorneys office.

Both decided that no criminal activity took place.

One of three commission panel members voted to fire Schoen.

The others voted to suspend him for 60 days.
City officials are understandably upset:
"They got it wrong," said Alderman Willie Hines, who can't believe the decision.

"I think it sends a bad message both to the community and to the members of the Milwaukee Police Department," said Milwaukee Mayor Tom Barrett.

"This type of behavior should not be tolerated."

Barrett backs the chief's call and thinks the commission should have, too.

"They've got a difficult job and they're making some difficult decisions, but i think this is a case where they got it wrong," said Barrett.
If you live in Milwaukee, the comission's verdict says you aren't safe from your own police department. If you work for the Milwaukee PD, this verdict says not only that you are exempt from internal rules for handling suspects, but also that your boss–the chief of police–is impotent, and that the rule of law does not apply to you. Those are pretty terrifying messages to be disseminating in a city that's still reeling from an investigation into a group of cops who routinely sexually assaulted suspects in order to plant drugs.