Mother of Four Who Got 12 Years for $31 in Pot Freed After Serving Two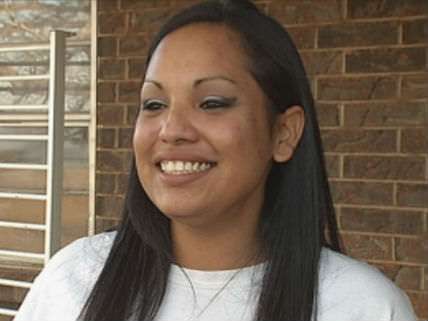 Last week Patricia Spottedcrow, an Oklahoma woman who received a 12-year prison sentence in 2010 for two penny-ante marijuana sales that yielded $31, was released from prison and reunited with her four children. The cruel, twisted logic of the war on drugs dictated that Spottedcrow, who was charged with possession of a dangerous substance in the presence of a minor, be punished extra severely for supposedly endangering her children, even if it meant hurting those children by separating them from their mother. The sentence was all the more appalling because a police informant initiated the "crimes" with which Spottedcrow was charged and because her mother and brother, who were charged in connection with the same transactions, received a suspended sentence and probation, respectively.
After the Tulsa World ran a profile of Spottedcrow last year, the case received wide attention (including a post here by Mike Riggs). Last January a new judge shortened her sentence by four years, and in April the Oklahoma Pardon and Parole Board recommended her early release, which Gov. Mary Fallin approved after requiring Spottedcrow to serve three months in a work-release program.
[Thanks to Richard Cowan for the tip.]