Attorney General Eric Holder Says He Might Not Stick Around for Obama's Second Term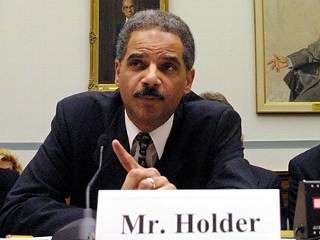 Attorney General Eric Holder told students at the University of Baltimore Law School today that he might not stick around for Obama's second term, CBS reports:
"That's something that I'm in the process now of trying to determine," Holder said. "I have to think about, can I contribute in a second term?"

Holder says he needs to sit down with his family and President Obama to see if he wants to continue on the job.

"[I have to] really ask myself the question about, do I think there are things that I still want to do? Do I have gas left in the tank? It's been an interesting and tough four years, so I really just don't know," Holder told students.
National Journal has put together a list of who might be tapped to fill cabinet positions in Obama's second term. Here's who the magazine sees as slated to take over Holder's job:
Obama has a natural pick in Massachusetts Gov. Deval Patrick. Patrick was a top Justice official during the Clinton administration, and he also has experience in the corporate legal community through his stints as a lawyer for Texaco and Coca-Cola. Patrick's second term in Massachusetts doesn't end until 2014, and, according to reports, the governor has said he'll finish his term. But Washington and a high-profile Cabinet spot could prove irresistible.

Alternatively, Obama could turn to one of two former prosecutors now in the Senate, Amy Klobuchar of Minnesota or Sheldon Whitehouse of Rhode Island. Klobuchar was a popular county attorney; Whitehouse served as attorney general and U.S. attorney in his home state. Justice could also be a landing spot for Sen. Claire McCaskill, a former county prosecutor in Missouri, who just won reelection, or for Janet Napolitano, the current Homeland Security secretary. If Obama wants to look to his home state, he could tap Lisa Madigan, the longtime Illinois attorney general. (Both Klobuchar and Napolitano have also been mentioned as possible Supreme Court nominees.)