Feds Upset That Telecoms Resist Surveillance Efforts
You have to wonder if John Galt his own self has taken the helm at the Telecommunications Industry Association.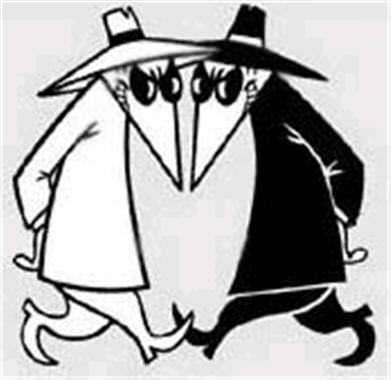 Two oddly encouraging news items appeared in the last couple of days, both suggesting that telecommunications companies are dragging their feet or otherwise resisting when it comes to law-enforcement requests for assistance with electronic surveillance. In an age when we've become accustomed to big-business collaboration with the dark forces of nosy, presumptuous officialdom, this is nothing less than astonishing. Add to that the fact that telecoms have been immunized from legal liability for helping the government in its eavesdropping efforts, and you have to wonder if John Galt his own self has taken the helm at the Telecommunications Industry Association.
Yesterday, the Electronic Frontier Foundation revealed that Immigrations and Customs Enforcement is demanding the return of documents released a year ago in compiance with a freedom of information request. Says EFF:
It started a year ago when ICE produced records in response to one of our Freedom of Information Act lawsuits. The records show that companies like Comcast, Cricket Communications, Metro PCS, Southern Linc Wireless, and T-Mobile either pushed back on or failed to comply with specific requests for information on their customers. For example, in response to one of ICE's pen register/trap and trace orders, Southern Linc said it "did not like the wording of [the] order" and "would not give 'real time' ping location for [the] phone, [it] would only give 1 hour old history." ICE also reported that it experienced "technical issues . . . on almost a daily basis" trying to get data on a suspect from Cricket Communications." And Comcast gave ICE the runaround for a month before it turned over IP log history.

These records are the first we've received in response to our FOIA litigation that actually provide some of the information we asked for—specific examples of problems federal agents have faced getting companies to comply with communications surveillance orders. We filed this request two years ago after the New York Times reported that the FBI and other agencies were pushing Congress to expand the Communications Assistance for Law Enforcement Act (CALEA) to require companies like Blackberry, Skype and Google to build back doors into their systems. And ICE should be commended for releasing these records with only minimal redactions.
Intrigued by what it had found, EFF requested more documents.
It took ICE almost a year to get back to us on the narrowed request, and when it did, its response was frustrating. Not only did the agency decide that it would still be too burdensome to conduct any kind of a search for similar records, but ICE also told us it never should have turned over the original records in the first place—and it wanted them back.
ICE demanded the return of records that had been widely published and entered into publicly available court records — something about horses and barn doors comes to mind, but the federal agency wanted it documents back, anyway. Why? EFF speculates that ICE is just screwing with the organization and trying to make life difficult. But it could also be that the feds are a little embarrassed by the degree to which their supposed friends in the telecommunications industry aren't playing nice. One document published by EFF shows ICE officials plaintively complaining that Cricket Communications gave them little help, and lots of technical difficulties over the course of months during a surveillance opertion, and when agents complained, "most emails and phone calls regarding the issue were not returned."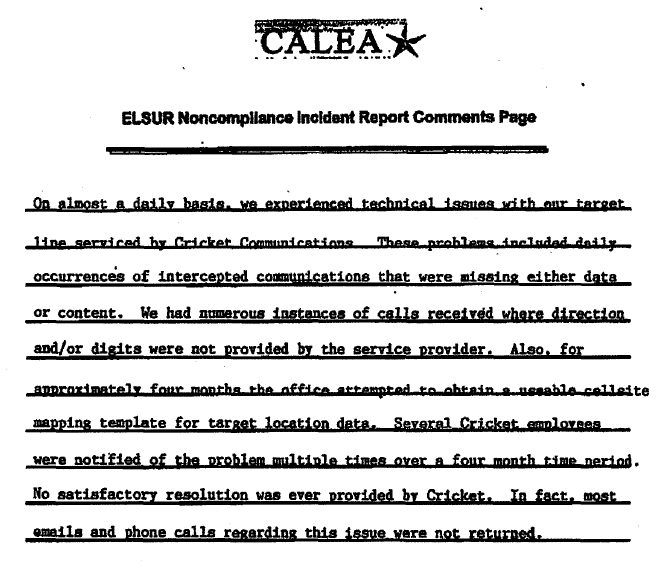 That the issue of noncompliance with surveillance requests hasn't changed much in the last year is strongly suggested by a CNet report written by Declan McCullagh. Writes McCullagh:
The FBI has tried to bolster its case for expanded Internet surveillance powers by gathering finger-pointing examples of how communications companies have stymied government agencies, CNET has learned.

An internal Homeland Security report shows that a working group convened by an FBI office in Chantilly, Va. requested details about "investigations have been negatively impacted" by companies' delays, partial compliance, or inability to comply with police surveillance requests.
The FBI also points to Cricket for not playing nice, by the way, so consider that as you arrange to meet your telecommunications needs. Cricket seems to have a special and underappreciated talent for obstructionism when it comes to working with the feds to spy on customers.
McCullagh continues:
The information collection is part of the FBI's controversial effort, known internally as "Going Dark," aimed in part at convincing Congress to rewrite federal wiretapping law to require Internet companies including Facebook, Google, Microsoft, and Yahoo to build in back doors for government surveillance. CNET reported in May that the FBI has asked tech companies not to oppose the plan.
Basically, the feds aren't happy with the cooperation they're (not) getting, and so want to build technical backdoors into the telecommunications system so they can wiretap directly, without asking for the industry's assistance.
I wrote last week about how a federal judge found the government's "Going Dark" surveillance plans a bit .. mind-boggling.