Nothing Left to Cut: Italian Anti-Sandwich Patrols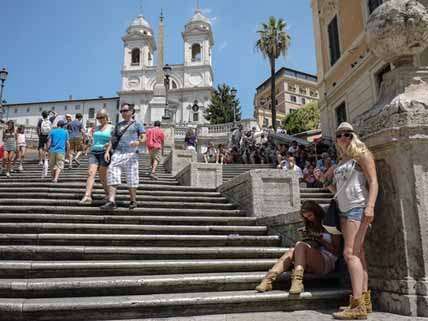 Here's another reason Europe can't endure one more minute of austerity: Without ever-larger bailouts, there will be no money to pay for anti-picnicking cops in Rome. The Eternal City this week made it illegal for tourists to sit and eat near public attractions:
Tourists will still be allowed to eat while they walk, but stop with a bag of chips in your hands or sit down while chewing on your panino, and you are eligible for a fine of 25 to 500 euros ($32 to $650). An Italian daily newspaper dubbed it the "War on the Sandwich."

Dressed in their white and blue uniforms, local police officers Alessio Valentini and Magdi Adib were on patrol Thursday looking for anyone daring to flout the new law.

They shoved away a group of young Dutch tourists who sat next to the Colosseum to enjoy their pizzas. "Go, go," Adib told the bemused boys, who didn't know which crime they had committed.

The officers told NBC News they had fined seven tourists—all foreigners—since the morning. The standard penalty was 50 euros ($65).
Germany, which sends the second-largest number of tourists to Italy every year, must wonder sometimes what it's getting in exchange for bailing out the rest of Europe. Be of good cheer, Fritz: You're not just paying for rioters in Turin, parkour protesters at the Vatican and dumpster divers in Naples. You're also making sure the snack police are getting a living wage as they slap you with fines that (typically in a nation with one of the highest rates of tax evasion in the world) they expect you won't actually pay:
"Most of them are foreigners, so I doubt they will pay the ticket before they go back to their countries," the officer said. "It's more likely they'll keep it as a souvenir."