The Cabs Are Not Alright: Rent-Seeking in Omaha and Lincoln, Ne.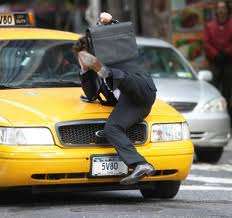 In August, Nebraska's Public Service Commission (PSC) denied Servant Cabs' application to operate in Omaha, which is now served by a monopoly of five taxi companies under common management, and the rest of the state. Servant Cab filed a lawsuit to overturn the ruling this week reports the Lincoln Journal Star.
Nebraska law requires prospective taxi operators to prove to the PSC that they are:
"(a) … fit, willing and able to properly perform the service proposed … and [that] (b) the proposed service … will be required by the present or future public convenience and necessity."
A broad array of citizenry testified in support of Servant. From the official report:
Hotel managers spoke of shoddy service: long wait times, cabs that never arrive, dirty vehicles and a shortage of taxis during periods of high demand such as bar closing hours or large events (like the College World Series, which takes place in Omaha each June). One stated that after hour-plus waits, many bar patrons give up and drive home under the influence, a serious safety issue that is a direct result of a lack of cabs (p. 35).
Service providers and disabled residents described the drastic need for more wheelchair-accessible transportation options, which Servant would have provided. Currently, disabled residents who need to travel during hours or along routes not covered by public transportation call ambulances because of the scarcity of cabs that can handle wheelchairs (p. 36).
Neighborhood activists testified that many residents rely on unlicensed cabs to get to work because public transportation and the existing cabs do not meet their needs. Senior centers have difficulty arranging for residents to get cabs for trips to the pharmacy and church (p. 33).
Even some Omaha cab drivers, who complained of poor treatment by existing companies, testified for Servant Cab, saying more competition would benefit consumers and cabbies (p. 31-33, 35).
The law also allows cab companies a say in the process, and they routinely protest potential competitors' attempts to move onto their turf. Servant Cabs' application was naturally opposed by Omaha's existing monopoly.
Earlier this year, Servant Cab unsuccessfully opposed those same Omaha companies' efforts to enter the Lincoln, Neb. market, where, until this May, Servant had had its own monopoly according to the Lincoln Journal Star. Ironically, testimony from a hearing in that case played a role in the PSC's decision to prevent Servant Cab from operating in Omaha.
In addition to finding that Servant failed to "offer any specific business plans" for their expansion into Omaha and the rest of the state, commissioners also cited complaints from Lincoln residents and officials about Servant Cabs' failure to meet customer demand in Lincoln—complaints that look very similar to some of those aired by Omaha residents about a shortage of cabs in Omaha (p. 39).
Nebraska legislators did consider a bill (LB889) this spring that would have exempted taxi companies trying to operate in cities from having to prove "public convenience and necessity" for their services. They would still have had to prove themselves "fit, willing and able;" however, so it would not have helped Servant Cab. The bill died in committee.
Lest anyone be tempted to utter the term Schadenfreude, remember that Servant isn't the loser in Omaha—it's consumers who can't catch a cab. Then reflect on the absurdity that, to PSC commissioners, a monopoly's failure to serve Lincoln customers justifies protecting a monopoly in Omaha.
Reason writers have covered harmful and unnecessary regulation of the taxi industry in DC, New York City, Connecticut, Milwaukee, Pittsburgh (Pa.), Anchorage, Quincy (Ill.) Bloomington (Ill.), and Alexandria (Va.) among other locales.