How Farmers Markets Dodged a Regulatory Bullet in Pennsylvania
The Keystone State's boom in farmers markets might have gone bust.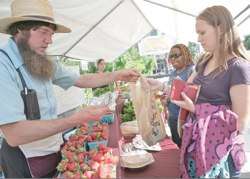 Earlier this month the USDA celebrated National Farmers Market Week. When the agency began tracking the number of farmers markets in the United States in 1994, it counted 1,755 such markets around the country. Today that number tops 7,800—an increase of nearly 450 percent in less than two decades.
Consumer interest in farmers markets has similarly exploded across Pennsylvania. According to USDA data, there are more than 250 farmers markets in the state—about two-dozen of which are located in Philadelphia.
In spite of these great numbers, Pennsylvanians should be grateful to have access to any farmers markets at all this year. That's because the direct-to-consumer bounty farmers provide might have all but disappeared. And though drought concerns persist in some parts of Pennsylvania, the specter of a summer with fewer farmers selling less produce at markets in the state was due not to Mother Nature but—instead—to state legislators and regulators.
Many farmers and consumers feared a newly enacted state law, Act 106, would jeopardize Pennsylvania's farmers markets. While some applauded the Act for having replaced an often-confusing patchwork of local farmers market regulations with a uniform statewide law, Act 106 meant farmers would have to obtain retail food licenses, and many feared they would be required to purchase costly handwashing sinks (rather than sharing a sanitary sink with other vendors) and mechanized cooling devices (rather than chilling food safely using ice).
Last fall, Pennsylvania members and supporters of Keep Food Legal, a Washington, DC-based nonprofit dedicated to protecting food freedom—the right to grow, raise, produce, buy, sell, share, cook, eat, and drink the foods of one's own choosing—expressed their concerns about Act 106's potential impact on farmers markets in the state. Keep Food Legal commissioned the Harvard Food Law and Policy Clinic to write a report on the effects of Act 106 (the relevant portions of which were codified into state law as Chapter 57) on farmers markets in Pennsylvania, and to compare the new requirements to similar regulations in nine other states around the country.
The report, Pennsylvania's Chapter 57 and Its Effects on Farmers Markets, issued last week by the Harvard Food Law and Policy Clinic, contains both good news and several suggested ways Pennsylvania and other states can improve the ways they regulate farmers markets. On the bright side, the report concludes that Pennsylvania's regulation of farmers markets compares favorably to regulatory approaches in the nine other states that were part of the Clinic's research. It notes that some of the perceived problems with Act 106 were in fact overblown, due to what appears to have been an initial failure on the part of the Pennsylvania Department of Agriculture to educate farmers, vendors, market managers, and local health departments about the law.
The report recommends that Pennsylvania and other states mitigate similar problems by providing accessible explanations of laws and regulations affecting farmers markets at the earliest possible point in time. The report also recommends several ways Pennsylvania and others states can lessen the regulatory burden on farmers markets more generally so as to maximize the satisfaction of farmers and consumers without sacrificing food safety.
For example, the report urges states to replace process-driven regulations—which require a farmer or vendor to follow particular steps—with results-driven regulations that simply require food to be safe. If a farmer can keep meat at a mandated temperature using an ice chest, there is no reason to require her to purchase an expensive refrigerator and generator to achieve the same level of food safety at a much higher cost. Results-driven regulations like these foster the ability of farmers to innovate so long as they meet established food-safety outcomes, helping them to uncover and employ cost-effective procedures that produce the same or better results.
When USDA Deputy Under Secretary for Marketing and Regulatory Programs Joani Walsh appeared at West Philadelphia's Clark Park Farmers Market earlier this month, she applauded it and the city's other renowned farmers markets as "groundbreaking" and "exciting" examples for the rest of the nation.
Walsh is right. The city's markets are certainly a great example of the explosion of fresh produce choices available to consumers around the country.
But, as our new report makes clear, celebrating America's farmers means more than simply buying their products. It also means being vigilant to ensure that farmers are not hamstrung by needless, senseless, and costly regulations.