Left-Handed Chavis Carter Shot Self With Right Hand While Cuffed in Back of Cop Cruiser
State crime lab report says 21-year-old drug war casualty committed suicide.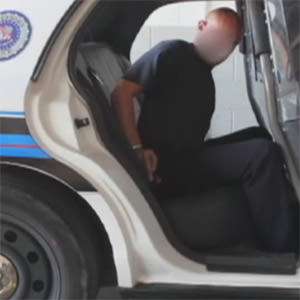 A state crime lab report claims Chavis Carter, the man shot to death while handcuffed in the back of a Jonesboro, Arkansas police cruiser, committed suicide.
The left-handed Carter, the report claims, retrieved a 380-caliber Cobra semi-automatic, which he had managed to conceal from officers during two searches, and used his right hand to shoot himself in the head.
As noted earlier in Reason 24/7, the report was signed by three medical examiners. Reason's Lucy Steigerwald reported yesterday that the coroner's office in Craighead County, about 40 miles northwest of Memphis, Tennessee, had already produced its finding that Carter's death was a suicide.
The state report was provided to Associated Press under a Freedom of Information Act request. The Jonesboro police have also produced a re-enactment of the tale of Carter's suicide. I can't tell whether the video (0:46–1:00 here) shows an officer pulling a concealed weapon from his own person or fishing a drop gun from the cushions of the car. (YMMV.)
From AP's Jeannie Nuss:
"How (did) he shoot himself in his right temple and he (was) left-handed? In handcuffs?" one of his friends, Bianca Tipton, asked.

The state crime lab report, released to The Associated Press and other news organizations under a public records request, didn't answer that question.

Instead, the report says Carter's death was ruled a suicide based on autopsy findings and investigative conclusions from the Jonesboro Police Department, which has faced questions from Carter's family and community members about the circumstances surrounding the July 28 death.

"He was cuffed and placed into a police car, where apparently he produced a weapon, and despite being handcuffed, shot himself in the head," the report says.
There is no backseat footage of Carter himself.
Local residents called police on Sunday, July 28 to report that Chavis Chacobie Carter and two associates where riding in a Missouri-tagged truck with no headlights at 9:50 p.m. Carter was a passenger in the truck. Jonesboro police responding to a 911 call ran the other two men's licenses. Both were subsequently released.
Carter carried no ID and called himself Larayan Bowman. Cops were unable to verify his identity and found a small amount of pot in his pockets. After officers placed him without restraints in the back seat of a patrol car, Carter admitted his real name. Cops discovered an arrest warrant on a charge of having failed to comply with a DeSoto County, Mississippi drug-diversion plan to which Carter had been sentenced after pleading guilty to a single count of selling pot.
The police story teems with dreamlike detail. Perry County, Arkansas columnist Gene Lyons describes it:
According to their written report, officers took Carter out of the patrol car, placed him under arrest, searched him, handcuffed his hands behind his back, and then locked him inside with the vehicle's windows tightly closed. Several witnesses observed it all. An aunt of Carter's arrived at the scene, presumably summoned by cellphone. Informed of the charges, she drove off.

As the officers walked toward the second patrol car to interview the other suspects, the report says, "I saw a vehicle driving north on Haltom and then heard a loud thump with a metallic sound. I thought the vehicle had ran over a piece of metal on the roadway."
More on drug diversion programs.