YouTube Face Blurring Tech Latest Google Thwarting of Authoritarian Governments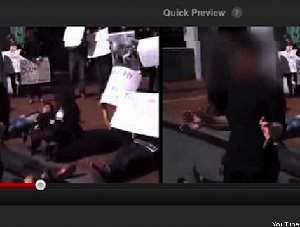 Google, which last month announced it was informing users who appeared to be being targeted by state-sponsored hackers, today unveiled a new face blurring technology for YouTube, which it owns. Amanda Conway, a YouTube policy analyst, explained on the video service's blog:
According to the international human rights organization WITNESS' Cameras Everywhere report, "No video-sharing site or hardware manufacturer currently offers users the option to blur faces or protect identity."

YouTube is excited to be among the first.

Today we're launching face blurring - a new tool that allows you to obscure faces within videos with the click of a button.

Whether you want to share sensitive protest footage without exposing the faces of the activists involved, or share the winning point in your 8-year-old's basketball game without broadcasting the children's faces to the world, our face blurring technology is a first step towards providing visual anonymity for video on YouTube.
The tool allows the user to blur whatever faces they want in the video they've uploaded and then, as a safeguard against government attempts to seize original unaltered video, gives the user the option to delete the original video.
At Google's Public Policy blog, the company's vice president for global communications and policy, Victoria Grand, explained the importance of anonymity in so-called citizen reporting and even suggested additional precautions for activists using YouTube to post video of protests and human rights abuses, including assessing the risk posed by posting the video itself, to consider information that could be used against the user or other subjects on the video, and to remember some countries are so shitty even purchasing a SIM card can get you on a government track list.
A Google engineer last month proposed an error message that would inform the end-user access to a website was being blocked by local law or government sanction.
The Senate, meanwhile, is holding hearings about facial recognition technology.