Florida Police Knock on Wrong Door at 1:30 a.m. Without Identifying Themselves, Then Fatally Shoot Armed Resident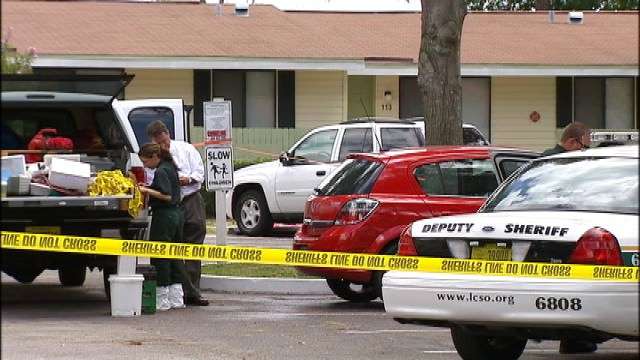 Via Instapundit comes the news that deputies in Lake County, Florida, early on July 15, fatally shot a man named Andrew Lee Scott. Deputies say they didn't identify themselves as police when they knocked on Scott's apartment door at 1:30 a.m. They also say that when Scott, 26, answered while armed with gun drawn, they immediately opened fire and killed Scott in his own doorway. His girlfriend was present in the apartment.
Police had been following a suspect in an an attempted murder, a man named Johnathan Brown who they trailed to Scott's apartment complex, and who had parked his motorcycle right outside. An hour and a half after killing Scott, police realized they had killed the wrong man. They soon found Brown in an adjacent apartment, as well as another man involved in the scuffle that had seen Brown attempt to bludgeon a man in the head with a cinder block.
According to Wesh.com Orlando, police are admitting the disturbing facts, but not any negligence:
"When we knocked on the door, the door opened and the occupant of that apartment was pointing a gun at deputies and that's when we opened fire and killed him," Lt. John Herrell said.
[—]
"It's just a bizarre set of circumstances. The bottom line is, you point a gun at a deputy sheriff or police office, you're going to get shot," Herrell said.
The above reports the the basics, as did most outlets, but Central Florida News 13 irritatingly decided to go with a lede of "A Lake County man with a criminal history is dead after a confrontation with deputies." Ten grafs down, they mention that Scott's criminal record was…for drug offenses. Drugs and paraphernalia were indeed found in his apartment. News 13's headline also describes the victim as a "a man with a criminal history," which, though accurate, seems a bit beside the point in these circumstances. In spite of his apparent drug use, Fox News Tampa interviewed neighbors of Scott who said he was a nice guy as they criticized police actions.
The Florida Department of Law Enforcement is looking into the shooting.
Reason on other cases where armed citizens and police clash, usually because of the drug war, including the cases of Kathryn Johnston, Ryan Frederick, and the Matthew David Stewart's Utah shooting from last year.
Reason on police.