Inflationese: Pick Up a New Language Today!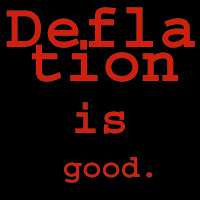 Inflationism can be a tricky religion, and becoming fluent in inflationese can be downright strange. (Because inflation is under control, and doesn't even exist, and wouldn't be a threat if it did exist, but is also an omnipotent force that solves all problems, and how can all those claims be true? It's like the consecrated host being both a candy and a gum.)
But if you throw out the baffling logic and reason you developed as a grownup and just go with the flow, you can learn native-or-better inflationese in a few easy sessions.
The first thing to know is that inflationese is more than a mere cognate language of 21st-century English. It's even older than 21st-century English, and it inflects nearly every phrase in our language. Consider the rich inflationese prose in the ostensibly pro-buyer article "Traditional 'rules' of homebuying return: Buyers can balance the bargain hunt with realistic expectations." by U.S. News & World Report's Rachel Koning Beals.
Under the old paradigm, our ancestors might have asked, "How can you trust an article where the title uses scare quotes to undermine the article's claim?" Those fools in old-time hats and coats might also have assumed a journalist advising buyers would consider price inflation something her readers want to avoid.
But Koning Beals is so gracefully attuned to the higher purpose of inflation that even as a friend of the buyer she advises only deference to the seller's position, debt-fueled purchases, presumption of price increases, and avoidance of "hardball." Some nuggets:
There may be wiggle room with seller concessions — covering closing costs, tossing in repair credits — entering into a prospective deal armed with local-market knowledge and respectful consideration of the seller's position can go a long way toward getting a great deal on a great property.

Semantics are important: Ask, "How flexible are they on the price?" Avoid: "How much less will they take?"

Save yourself and all involved the delay and headache of financial surprises by researching your own credit report.

[P]laying hardball with lowball offers that are out of sync with comparable local sales can be time-consuming. Time can mean money.

Short sales, foreclosed properties or rent-to-own dwellings shouldn't be ruled out [but] may take more time and involve more financial hoops…

Price isn't all that matters; find out how long properties are staying on the market, on average.

[N]egotiations [are] back and have been for a few years. Gone — in most markets — are the bidding wars where would-be buyers didn't stand a chance unless they came in above the asking price from the start. Ironically, tough competition has cropped up in some instances, thanks to the weak housing market.

[An overpriced local market may be] good for your long-term investment, but it also means the seller has a pricing advantage at the outset and couldn't care less about macro-pricing trends. Competition may be tight…
Cash, and the prospect that the buyer might in time be committed to pay his or her mortgage off in cash, gets little mention. To Koning Beals, money is mostly a token used to lock in the deal:
Buyers may also have to put up "earnest" or "good faith" money, which is essentially a deposit before moving into the offer/contract phase.
Inflationese is a dynamic language that turns words (supply, demand) into non-words and ideas (deflation) into non-ideas. But by recreating the immersion environment you can learn inflationese with the same ease you had when you were a baby and first learned to talk.