Deputy Shoots a Dog That Is Actually Dangerous: His Own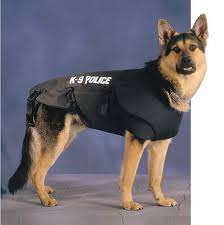 From the Detroit Free Press:
An Oakland County K9 officer fatally shot his own police dog today when the 5-year-old purebred German shepherd attacked him after recently showing signs of aggression, according to a news release.

The incident occurred at a veterinarian's office, where the sheriff's deputy had taken Gunner, who had been a member of the county's K9 unit since 2007, the release said.

The deputy, a 23-year veteran of the department and 5-year police dog handler, took Gunner to the vet to explore "options available to curb his aggression," police said. But while the deputy and the veterinarian were trying to attach a leash to the dog, Gunner leaped in a biting lunge toward the deputy's face, and he blocked the dog with his forearm, the release said.
The dog kept biting the deputy and refused commands to let go, so the deputy drew his gun and shot him.
"This is an extremely sad situation," Oakland County Sheriff Michael Bouchard said in a written statement. "These dogs are more than a police asset. They are beloved members of the department and the handler's family."
Wonder if they'll keep that in mind when they're dealing with other families' "beloved members."
Hat tip to former Reason editor Radley Balko.