Bath Salts, Naked Zombie Cannibals & Stupid Senators
Bath salts. They're turning people from Miami to Maryland into flesh-eating hulks and the synthetic concoctions that are sold as insect repellent and plant food have supposedly singlehandedly set off the zombie apocalypse.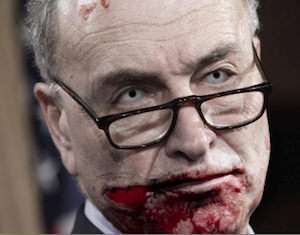 New York Sen. Chuck Schumer, fresh off his victory in banning caffeinated alcoholic beverages like Four Loko, is hell-bent on banning so-called bath salts. The senator, who in the past has tried to regulate the price of Coca Krispies, Count Chocula, and other breakfast cereals, also wants to outlaw fake pot, too – because the war on real pot is going so swell.
It all started on a Florida offramp in broad daylight when a car-washing Bible-thumper snapped, allegedly under the influence of zombie dust. The story soon eclipsed the presidential election and Miley Cyrus' lack of underwear as the most important issue in the country.
There was an immediate obsession with the substance that "caused" this unnatural act.To date, there's no evidence that Sunshine State face-chewer Rudy Eugene was in fact whacked out on bath salts. The Miami Mauler had been arrested at least eight times since he was 16 and had threatened to kill his Mom on at least once violent occasion.
Here's the problem with banning "synthetic methamphtemine" – or the real thing, for that matter: There are an infinite number of ways that natural and artifical drugs can be combined, married and sewn together to get a user higher Matthew McConaughey on any given Monday. Science will always be one step ahead of the legislative process, so as quickly as a chemical compound is banned, four more will spring forth from crafty laboratories eager to pacify those seeking a quick fix.
But…but…but…bath salts make you a zombie cannibal, don't they? You can hear the Sen. Schumers of the world ask that question. But hardly The other two cannibalism stories in the news don't involve bath salts or naked zombies. The Canadian porn star who hacked up his friend, ate his bits, then sent appendages on a tour of the Canadian Postal Service is more gruesome than Celine Dion's entire discography, but the guy was clothed and sober. The kid in Maryland who ate the heart and brain of his Ghanian roommate was also not on the salts, and he too was clothed.
So instead of banning bath salts, how about enforcing the existing ban on zombie cannibalism? And if we can't do that, can we at least ban opportunistic, incompetent legislators?
Oh, Calgon, take me away!
Produced by Meredith Bragg. Written by Nick Gillespie and Kennedy, who narrates.
Follow Reason (@reason), Gillespie (@nickgillespie), and Kennedy (@kennedynation) on Twitter.
About 2.30 minutes. Scroll down for downloadable versions and subscribe to Reason.tv's YouTube Channel to receive automatic updates when new material goes live.