Same-Sex Marriage Disputed, Same-Party Elections A-OK; GovWorkers Hammered; More: California Results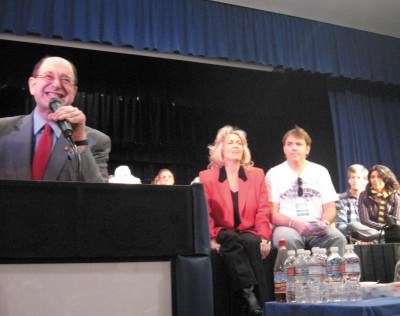 "Top Two" voting is producing one-party November elections in the union's most populous state. 
Swiftboated San Diego mayoral candidate Carl DeMaio secured the Republican nomination. 
California voters barely rejected a cigarette tax. 
This June vote, which was attended by nearly a quarter of eligible voters, may turn out to have been more important than the November general election, the results of which don't look like they will be very surprising. 
As Scott Shackford noted earlier, voters in San Diego and San Jose elected to reform budgeting of pensions for government employees. Public sector unions have already sued to block the will of the people. 
Californians also strayed from type by narrowly rejecting Proposition 29, a cigarette tax purportedly intended to support cancer research. This at least is the apparent result with 4,123,259 ballots counted:
Proposition 29 Imposes Additional Tax on Cigarettes for Cancer Research 

Fail: 1,894,871 / 49.2% Yes votes …… 1,958,047 / 50.8% No votes
ABC says this result is a tie. 
Proposition 28, a misleadingly worded change to Golden State term limit laws that makes it easier for legislators to build 12-year careers in Sacramento, sailed through with 62 percent of the vote. 
Instant runoff or top-two voting, which was hilariously advertised as an opportunity for third parties, is instead producing one-party contests in sunbaked Barstow:
United States Representative; District 8

Paul Cook, Republican 10,682 votes 15.5%
Gregg Imus, Republican 10,353 votes 15.0%
…in the heart of the San Fernando Valley: 
United States Representative; District 30

Brad Sherman, Democratic 31,866 votes 42.4%
Howard L. Berman, Democratic 24,320 votes 32.4%
…and along the developed but charming beaches of San Pedro: 
United States Representative; District 44
I missed the June 2010 primary, during which Proposition 14 passed, making top-two voting the law of the land. I would have voted against it then, though I should note that as of 2004 I still apparently believed this rotten trick might generate more interesting election results. In practice, you can see that top-two makes the general election (the one that normal people vote in) a runoff of the primary.
So kudos to KUSI.com for calling the upcoming mayoral race between Republican Carl DeMaio and Democrat Bob Filner in San Diego a "runoff." DeMaio, an analyst at the old Reason Public Policy Institute, was targeted by pilotless drone David Brooks in a New York Times column, but Nathan Fletcher, the particular king Brooks was attempting to make in that column, came in third place last night, so Allah mak to him. 
Ron Paul drew 147,900 votes in the Golden State, enough to fill the Los Angeles Tennis Center 25 times, but only enough for 10 percent of the Republican vote.
Mitt Romney brought 1,151,275 Californians to the polls, while President Obama drew 1,561,290. The Romney campaign seems to consider a 400,000-vote gap too big to overcome in a state with 17 million potential voters. They're probably right about that. 
This writer's ballot is the usual string of broken hearts. My Senate pick, Rick Williams, did better than I expected with fourth place, beating out birther Orly Taitz by more than 7,300 votes.
And I believe any fairminded person who compares second place finisher Elizabeth Emken's 454,937 votes (12.5 percent) with incumbent Democrat Dianne Feinstein's 1,801,422 votes (49.3 percent) will agree that I was not just being mean when I said Emken will get puréed by Feinstein in November.
Joe Escalante lost his judicial race and both Los Angeles tax measures passed with more than 60 percent. One of those is a hotel tax which specifically exempts government employees and subsidized long-term residents.
So while parts of California seem to have arrived in the 21st Century, L.A. is, as they say in L.A., what it is.