Ted Stevens' Prosecutors Punished for Withholding Evidence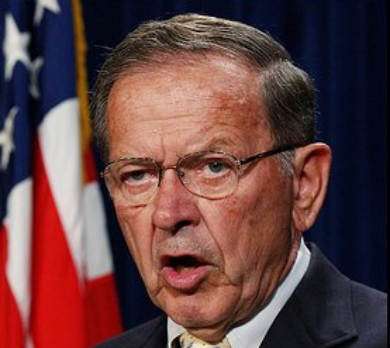 Yesterday the Justice Department announced that it has suspended two prosecutors who sat on evidence they were legally obligated to share with the lawyers representing Ted Stevens, the Alaska Republican who was convicted of failing to report gifts right before losing his 2008 bid for a seventh term in the U.S. Senate. The following April, the government withdrew all of the charges against Stevens (who died in a plane crash four months later), citing the withheld evidence, which included notes from an interview with a prosecution witness that undercut the government's claims about the value of renovation work on Stevens' home in Alaska—the alleged gift at the center of the case. While a special investigator appointed by the federal judge who oversaw the Stevens case concluded that the prosecutors at fault, Joseph W. Bottini and James A. Goeke, "intentionally withheld and concealed" evidence, the Justice Department's report on the matter attributes their failures to "reckless professional misconduct." They were suspended for 40 and 15 days, respectively, without pay.
Light as those penalties may seem, they are a welcome reminder that defendants have a due process right to evidence that is "material either to guilt or to punishment." Although that has been the law of the land for half a century, prosecutors often seem to forget, and they rarely face consequences for that failure, aside from overturned convictions.
Another positive outcome from the Stevens fiasco: Two months ago, Sen. Lisa Murkowski (R-Alaska) introduced the Fairness in Disclosure of Evidence Act, which would require federal prosecutors to share evidence "that may reasonably appear to be favorable to the defendant…without delay after arraignment and before the entry of any guilty plea." Evidence comes to light after then must be shared "as soon as is reasonably practicable." If the prosecution fails to do so, the remedies include "postponement or adjournment of the proceedings," "exclusion or limitation of testimony or evidence," "ordering a new trial," and "dismissal with or without prejudice." If the failure is due to "negligence, recklessness, or knowing conduct," the court may order the government to cover the defendant's legal expenses. Murkowski explained the motivation for the bill this way:
What happened in the trial of Senator Stevens is unfortunately not an isolated incident, but most American do not have the wherewithal that he did to push back against prosecutorial misconduct. While I do believe most federal prosecutors are adhering to the law, it's clear the rules in place are not preventing "hide the ball" prosecutions in cases across the country. There are a few prosecutors out there willing to put a finger on the scales of justice to get more convictions—and this bill seeks to stop that. Justice should be blind, not blindly ignored.