Judge Upholds Dutch Policy Banning Foreigners From Cannabis Cafés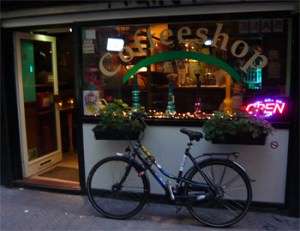 Today a judge in the Hague upheld a new Dutch policy excluding foreigners from cannabis cafés. The plan, which transforms the cafés into clubs open only to Dutch citizens and legal residents, is scheduled to take effect in southern provinces next month and throughout the country by the end of the year. The ban is aimed at addressing nuisances associated with "drug tourism" in border towns (some of which involves travelers buying pot for resale in other countries). But in Amsterdam, which has more than 200 "coffee shops" (about a third of the national total) and welcomes visitors attracted by the cannabis culture, the city's government has joined café owners in opposing the new policy.
A lawyer for the coffee shops complained that the judge "completely fails to answer the principal question: Can you discriminate against foreigners when there is no public order issue at stake?" He plans to appeal, but a 2011 decision suggests the Dutch Council of State, the country's highest court, may not be receptive to the challenge. In that case, which involved a local ban on selling marijuana to foreigners in Maastricht, the Council of State said discriminating against people from other countries does "infringe European law on the freedom to provide services" but "is permissible in the interests of combating drug tourism and the nuisance associated with it." Opponents of the national ban presumably will have to argue that it is illegal insofar as it applies in places, such as Amsterdam, where drug tourism is not considered a nuisance.
A political solution seems more likely. A.P. notes that "the Dutch government collapsed this week and new elections are scheduled for September," adding that "it is unclear whether the new administration will keep the new measures in place." 
Previous coverage of the ban on foreigners here.