Tasers for Transit Workers?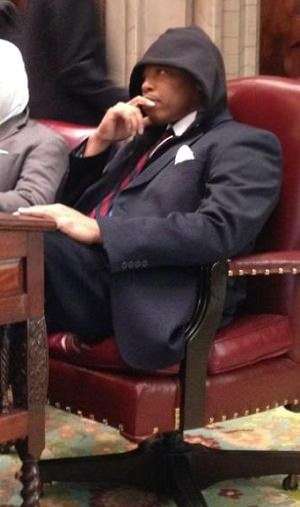 A New York legislator wants to arm transit workers with Tasers. The New York Daily News reports:
[New York State Senator Eric] Adams, a retired NYPD captain, introduced a bill last year to allow Amtrak and commuter railroad workers and subway train crews to carry Tasers. It was buried in the state Senate's Codes Committee. But now, spurred by the rise in attacks on bus and subway workers, the Brooklyn Democrat is amending the bill to include bus drivers, believing it may fare better in a different Senate committee, such as Transportation.
The troubling statistics that led Senator Adams to renew his effort? 94 bus drivers and subway workers were physically assaulted in New York City last year, up from 72 in 2010.
But the Transit Workers Union – Local 100, which is backing Adams' measure, counts 38,000 workers in New York City, hardly an assault epidemic. Additionally, bus drivers and other transit workers are already protected by the law; assault of a transit worker is a felony that can lead to a prison sentence of up to 7 years. Transit workers can also take paid time off generously after assaults, no matter how minor. The New York Times reported a few years ago:
Of all the assaults that prompted a bus operator to take paid leave in 2009, a third of them, 51 in total, "involved a spat upon," according to statistics the Metropolitan Transportation Authority released on Monday.

No weapon was involved in these episodes. "Strictly spitting," said Charles Seaton, a New York City Transit spokesman.

And the encounters, while distressing, appeared to take a surprisingly severe toll: the 51 drivers who went on paid leave after a spitting incident took, on average, 64 days off work — the equivalent of three months with pay. One driver, who was not identified by the authority, spent 191 days on paid leave.
No mention by Senator Adams, either, of how much it might cost to train bus drivers and subway workers on the appropriate use of a Taser, a weapon that can be deadly when misused.
As a former NYPD Captain, Eric Adams is no stranger to the misuse of force by authorities. In fact, he is a vocal critic of the NYPD's aggressive stop and frisk policies, even drawing a direct connection between the NYPD tactics and the killing of Trayvon Martin, an unarmed black teenager in a gated community in Sanford, Florida, saying:
The stop-and-frisk policy gave birth to not only police officers believing that a person of color is automatically a criminal; now it has grown into the civilian patrol units.
Senator Adams did not have to look as far as Florida to find how deadly policing based on profiling can get. In the Bronx, nineteen year old Ramarley Graham was pursued into his grandmother's house and shot to death by two plainclothes NYPD officers. They had suspected him of a drug transaction on the street that afternoon and chased after him into his home, shooting him in the back. They claim their lives felt threatened by the nineteen year old, much as George Zimmerman does. No drugs were found on Ramarley's person.
Does Senator Adams believe transit workers will be less likely to engage in profiling and less likely to use deadly force than police officers, whose entire work, at least in theory, revolves around not profiling and avoiding the use of deadly force? Or is he just pandering to the delicate and precious public workers ahead of state primaries in June?