How Long Will Nicholas Kristof Continue to Profit From Sex Trafficking?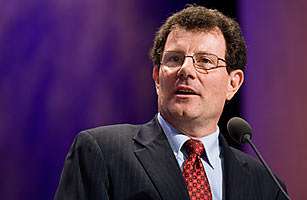 As I have noted a couple of times, New York Times columnist Nicholas Kristof holds Village Voice Media responsible for kidnapping, assault, sexual slavery, and the rape of underage prostitutes because its online classified ad service, Backpage.com, accepts "adult" ads. Last week he went even further in a column titled "Financiers and Sex Trafficking," accusing Goldman Sachs of complicity in these crimes because the investment bank held a 16 percent stake in Village Voice Media. "For more than six years Goldman has held a significant stake in a company notorious for ties to sex trafficking," Kristof wrote, "and it sat on the company's board for four of those years. There's no indication that Goldman or anyone else ever used its ownership to urge Village Voice Media to drop escort ads or verify ages." After Kristof started asking about the investment, he reported, Goldman Sachs "frantically" sold its shares in the company.
Playing off the Goldman Sachs column, Big Journalism blogger Joel Pollak applies Kristof's logic to Kristof's employer. The New York Times Company, Pollak notes, owns About.com, which carries ads for "escort services, strip clubs, and other forms of adult entertainment that Kristof has linked to the underworld of child sex trafficking." The Times "also owns a 49% stake in Metro Boston, a free daily newspaper with left-leaning coverage whose parent company also happens to make money from adult advertising."
The Times could defend the revenue from these ads by arguing that the services offered are supposed to involve consenting adults only, except that Kristof rejects that defense. "There's no doubt that many escort ads on Backpage are placed by consenting adults," he writes. "But it's equally clear that Backpage plays a major role in the trafficking of minors or women who are coerced." Because some people who advertise in Backpage.com's "adult" section commit these crimes, Kristof says, Village Voice Media will not have clean hands until it shuts the section down. By this standard, his employer is also guilty, and Kristof himself has an indirect financial stake in sex trafficking. Will he stop accepting this dirty money, or will he instead reconsider his sanctimonious, censorious crusade?