Orange County Cop Who Killed Manuel Loggins Returns to Duty Amid Allegations that Loggins' Daughters Were Held for 13 Hours by Police After Watching Their Father Die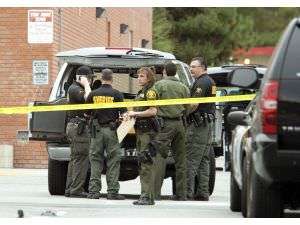 On February 7 at about 5 in the morning, Orange County Sheriff's Deputy Darren Sandberg had an encounter with Manuel Loggins in a school parking lot. When it was over, Loggins, a Marine at nearby Camp Pendelton, was dead, shot "multiple times" in front of his 9 and 14-year-old daughters as the three of them sat in the Loggins family van.
Loggins had, according to the Deputy, crashed through the school fence, parked his van, wandered around the soccer field, and then returned to the van, and attempted to drive away. Sandberg ordered Loggins to stop and says that Loggins didn't listen and was saying "irrational statements", so he fired. Tasers are optional in his department and there's no word on whether Sandberg was carrying one that morning or not.
Patch.com reported on February 10:
Due to Loggins' failure to follow the commands and his irrational behavior, including statements he made, the deputy had a deep concern for the safety of the children," [Orange County Sheriff's Department Spokesman Jim] Amormino said. "In the deputy's mind, it was unsafe for [Loggins] to drive away with the girls."
Amormino said he couldn't disclose what the alleged "irrational" behaviors or statements entailed, but said Loggins didn't appear to be intoxicated.
When Loggins got back into the Yukon and either started the engine or began trying to drive away, the deputy opened fire, shooting Loggins through the driver side window, which shattered. (The girls were in the back seat and not injured.)
Amormino acknowledged that this version of events differs from an earlier account released by the Sheriff's Department, in which the deputy reportedly opened fire because he feared for his own life.
"The real threat was for the lives of the children," Amormino said Friday. In a case like this, "some information becomes immediately available and some takes longer to get because witnesses have to be interviewed," he noted.
Amormino said this account came from the deputy who fired the shots. Another deputy was nearby, but "I don't know what he saw," Amormino said.
Loggins' daughters were also interviewed by investigators, but Amormino said he didn't know what they said or if their story lined up with the deputy's.
According to the Orange County police union, even Loggins' daughters said their father was acting strange. And the reason that police supposedly know this fact makes the case even worse; Loggins' wife is now filing a claim for $10,000 in damages on behalf of herself and her four children. Along with the wrongful death suit, the family lawyer alleges that after witnessing the shooting of their father, the two daughters were detained for 13 hours by the Sheriff's Department. According to the Los Angeles Times:
They just basically incarcerated them," attorney Brian T. Dunn said[.]…

The accusation is contained in a claim Dunn said he would file Wednesday with the county, giving notice that the Loggins family plans to file a wrongful death suit in Superior Court against the Sheriff's Department and the deputy….

The girls were held at the Orange County Sheriff's Department and not allowed to see their mother until 6 p.m. that day, Dunn said, describing the treatment as a form of "false imprisonment."

"They had games for them to play, but they wouldn't let them go," Dunn said. "They probably kept asking them over and over and over what was going on till they got the answer they wanted."

He said Loggins had committed no crime, posed no threat to anyone's life and that Sandberg shot him "multiple times."

The sheriff's union, in early comments, said Loggins had been acting "irrationally," putting his daughters at risk and ultimately setting up his own death.

The shooting has driven a wedge between the Marine Corps and sheriff's deputies in San Clemente, a beach town in south Orange County where both uniforms are a common sight. Camp Pendleton, where Loggins was based, is next to San Clemente, and sheriff's deputies patrol the city's streets.

Dunn said in addition to a wrongful death suit, he would file suit in federal court on the grounds that Loggins' civil rights had been violated.
There were reports in February that dashcam footage of the entire incident existed, but nothing has been released yet. Let's hope the footage is compellingly in favor of Sandburg, since he made the decision to fire into a vehicle where two children were residing. There had better be some really good reasons for that sort of action, which endangered the kids, in theory to save them from something worse. (Something which was proven by Loggins' disobeying of police orders and his still entirely non-specific "irrational statements.)
Let's hope the Orange County Sheriff's Department sees fit to share the footage with the public, and more to the point, the family.
Regardless of justification for the shooting its self, it's further unconscionable to keep two undoubtedly-traumatized children away from one parent after witnessing the death of the other.
Reason on police