NYC Trade Group Wants to Ban "Ugly" Food Carts
I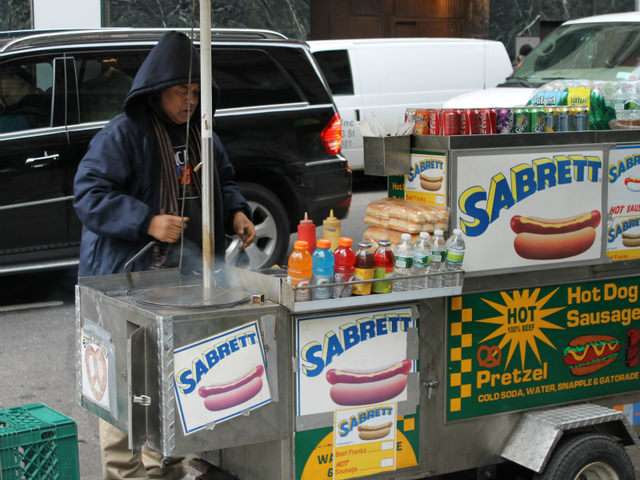 n New York City, an organization of Midtown businesses wants to ban food carts because they're "ugly." The 34th Street Partnership has called upon New York City Mayor Michael Bloomberg "to be a little more discriminatory" about which street vendors should operate. The head of the partnership, Dan Biederman, explains why these food carts should be removed:
The problem is really simple: the food vendors, with about five exceptions, are the ugliest collection of miserable-looking vehicles we've ever seen.
In addition, Biederman blasts food cart vendors for being "slobs:"
They are unsightly, and not particularly good citizens. They litter. They violate the rules frequently.The fact that these are humble vendors doesn't give them the license to be slobs.
Of course, aesthetics are subjective and vary from person to person. There is no reason why the state should enforce Biederman and his partnership's taste over anyone else's. In fact, mobile food vendors have been on display in an avant-garde museum in Germany, demonstrating that food carts might even have artistic merit.
While littering could be a problem, banning all food carts in Midtown is a very draconian response. Not to mention silly. Pedestrians litter, but no one's agitating to ban them.
Furthermore, many food cart owners are usually from a lower-class background or have recently immigrated to the United States. So driving these vendors out of Midtown would hurt the 99 percent. Since street vending has lower start-up costs than opening a brick and mortar restaurant, it provides for more opportunities to earn a decent living. The Street Vendor Project, an advocacy group for New York mobile merchants, even manages a Pushcart Fund, which raises seed money for future mobile entrepreneurs.
According to Matthew Shapiro, an attorney for the Street Vendor Project:
It's a little bit crazy to call vendors ugly and take them away from the neighborhood. They can't afford to invest in their businesses and make them look better because they're always getting slammed with fines.
The New York City government has set the legal number of licenses too low. So a black market has emerged in street vending licenses, with some selling for as much as $12,000. Or vendors just risk breaking the law and enduring a fine of up to $1,000. Indeed, a recent Institute for Justice report found that 10,000 jobs could be created in New York City just by granting licenses to vendors on the waiting list.
Me on occupational licensing. Reason.tv on food carts: