Former Sen. Alan Simpson Calls Rick Santorum "Rigid and Homophobic"
Former Sen. Alan Simpson (R-WY) blasted Rick Santorum for being "rigid and homophobic." In an interview yesterday with Bob Schieffer for CBS News, Simpson said he was unnerved by Santorum's stance on gay rights: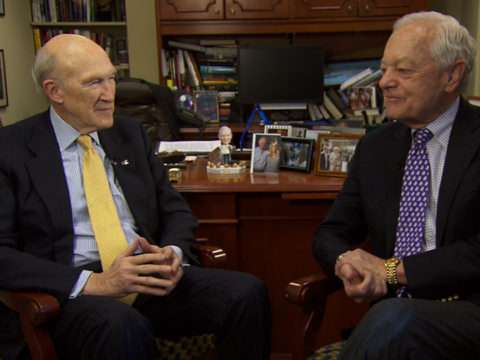 He said, 'I want a constitutional amendment to ban gay marriage,' and they said, 'Well, what about the people who are already married?' And he said, 'Well, they would be nullified.' I mean what is, what's human, what's kind about that? We're all human beings, we all know or love somebody who's gay or lesbian so what the hell is that about? To me it's startling and borders on disgust."
In a similar vein, Simpson criticized the social conservative wing of the Republican Party:
And here's a party that believes in government out of your life, the precious right of privacy, and the right to be left alone, how then can they be the hypocrisy of fiddling around in these social issues? We won't have a prayer.
Maybe Simpson is on to something. Last month, the Pew Research Center asked Americans what their "top policy priorities" were. Fiscal issues dominated that list. The economy and jobs were the top two concerns at 86 and 82 percent, while the deficit was fourth at 69 percent. (Terrorism was third.) Meanwhile, one of Santorum's favorite talking points, the "moral breakdown" of society, was far less of a concern. Only 44 percent of Americans were worried about moral issues. (It also doesn't help Santorum that LGBT rights are increasingly popular among Americans.)
Because the economy is so important, Simpson is supporting Romney, since he has a "good chance to be elected president, simply because people will vote against" Obama. Indeed, in a February 22 Quinnipiac poll, Romney was the only GOP candidate that beat Obama on handling the economy. (For whatever reason, Quinnipiac did not include a head-to-head between Obama and Rep. Ron Paul.) As for the other Republican candidates, Newt Gingrich "has too much baggage" and Simpson has no firm opinion about Ron Paul.
Simpson also had some harsh words against candidate purity, saying "I watch Republicans, they give each other the saliva test of purity, and then they lose and they bitch for four years."
In other LGBT/GOP news, the Republican governor of New Mexico (and dark horse vice presidential candidate), Susana Martinez, lost her openly gay hair stylist, who quit to protest Martinez's stance against same-sex marriage. Could this be the beginning of a gay Atlas Shrugged-style strike against looters and breeders?
Reason on Santorum. Santorum on man-on-dog. For more Simpson logorrhea, here's Reason.tv.