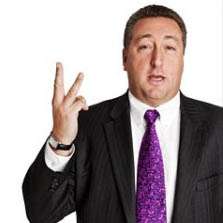 Barry Ritholtz sends in this response to my comment on his recent Washington Post column:
Dear Reason and Tim

I was disappointed to read your comments about my "Big Lie" column. You seem to have completely misread who I was blaming and what the Big Lie actually is.

Only one of two explanations suffice: Either I did a poor job communicating what the issue was, or you purposefully mischaracterized what I wrote.

On the possibility it's the former and not the latter, allow me this further explanation.

The quote that I critiqued was Mayor Bloomberg's whopper that the crisis was caused by Congress forcing banks to make ill advised loans to unqualified people. That statement is demonstrably false, and it is what I wrote in the WP. Not, as you described, that government was blameless.

Indeed, beyond the Post column, I have pointed a finger at Washington DC repeatedly. From the very early stages of the collapse, I have stated DC was a significant contributor. Indeed, early in the crisis, I described the government as "Uncle Sam the enabler." (A Memo Found in the Street, Barron's September 29 2008).

In the Big Picture blog, I made a list of the top blamees (Who is to Blame, 1-25, June 2009) It is dominated by government players, including the Fed, Congress, SEC, various Senators and Presidents, two FOMC chairs, the OCC, OTS, Treasury Secretaries, as well as private bankers and organizations.

And in Bailout Nation, I clearly detail how Congress did the bidding of Wall Street to allow special exemptions, waivers, and new legislation that contributed to the credit crisis, housing boom and bust, and Great Recession.

Your cartoonish argument is reductio ad absurdum – nowhere in the WP article do I remotely suggest the "big lie" was that Washington, DC played no role. But I do call out the nonsense Bloomberg was peddling, and you are pushing, that banks and Wall Street were merely innocent bystanders in all of this, and somehow were forced into these bad loans.

I would love to see any evidence you can muster that government forced banks to stop verifying employment and income, mandated no credit checks, eliminated debt servicing review, forced 120% LTV lending, or somehow pushed 2/28 ARM mortgages.

Less silly, please.

P.S. The print edition of the article, as well as my online edition has 12 points numbered, not bulleted. That's either a font or a browser issue on your end.
I appreciate Ritholtz's clarifications. If his objection is in fact limited to Bloomberg's comments, I agree with it. Presumably Hizzoner's claim that Congress forced banks to make loans to unqualified borrowers is a reference to the Community Reinvestment Act, which is frequently blamed by conservatives and libertarians for the increase in bad lending during the real estate bubble. While I believe the CRA is a bad law and its role in the immiseration of already low-income earners deserves more attention, there is not a lot of evidence that CRA requirements played a major part in creating the bubble that has now been partially corrected (by the force of gravity, not by any new regulation or government policies — which as I have written are clearly geared toward debasing lending standards).
The state doesn't always use direct force to cause trouble, however. Ritholtz knows enough about economics to understand that incentives matter, and the incentives that were used to inflate the real estate debt balloon included but were not limited to: tax policy; GSE involvement in the secondary mortgage market; consistent exaggeration of the benefits of home ownership by a Crony Cabal of mortgage lenders, Realtors, congresspersons and presidents going back at least to Ronald Reagan; the land use regulations that our own commenter Joshua Corning has ably described; and more than any of the above the maniacal quest for low interest rates by the Federal Reserve.
If I'm guilty of making a cartoonish reductio ad absurdum, then Ritholtz is doing the same thing by implying I have called banks "innocent bystanders" who were "forced" into ruinous lending policies. In fact, I and many others at Reason have been arguing since before the TARP, even before the Fannie/Freddie conservatorship, that the responsible parties should be left alone to suffer the consequences of their own errors. I even think the public is better off when shitty banks go out of business. Admittedly, it's a radical position to say that you make a situation worse when you force actual innocent bystanders to bail out the willing parties to a contractual agreement, and it stops short of the Occupy movement's call for "all of Wall Street" to be arrested. But then I think we have too many people in prison in this country to begin with. Don't know how Ritholtz feels about any of this, and again, I appreciate his reply. (But I wonder what this "print" thing is he mentions in the PS.)