San Juan Capistrano Fines Family for Reading Bible without Permit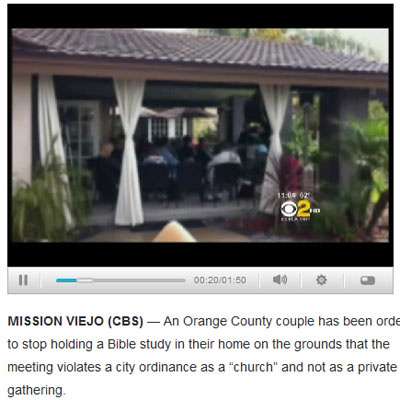 The city of San Juan Capistrano, California is laying heavy fines on a local couple for hosting semi-regular bible readings in their home. From the Los Angeles CBS affiliate:
Homeowners Chuck and Stephanie Fromm, of San Juan Capistrano, were fined $300 earlier this month for holding what city officials called "a regular gathering of more than three people".

That type of meeting would require a conditional use permit as defined by the city, according to Pacific Justice Institute (PJI), the couple's legal representation.

The Fromms also reportedly face subsequent fines of $500 per meeting for any further "religious gatherings" in their home, according to PJI…

After city officials rejected the Fromms' appeal, PJI, which represents other Bible study participants, will appeal the decision to the California Superior Court in Orange County…

Neighbors have written letters to the city in support of the Fromms, whom they said have not caused any disturbances with the meetings, according to PJI.
The city attorney says the meetings have attracted "up to 50 people." He claims the meetings are held Sunday mornings and Thursday afternoons, which would mean gross revenue of $1,000 a week for a city where the utilities agencies alone run at a deficit more than a third the size of their total budget, and whose finances are being subject to lengthy and expensive audits.
Here is a handy timeline [pdf] of the city's campaign against the Fromms' bible readings at chuckfromm.net.
Pacific Justice Institute president Brad Dacus notes the irony of the city's violation of the First Amendment's guarantee of religious expression in a city that was founded as a mission by Junipero Serra and is best known for a quasi-religious legend about cliff swallows. "In a city so rich with religious history and tradition, this is particularly egregious," Dacus says in a PJI statement. "An informal gathering in a home cannot be treated with suspicion by the government, or worse than any other gathering of friends, just because it is religious. We cannot allow this to happen in America, and we will fight as long and as hard as it takes to restore this group's religious freedom."