Will Jerry Brown Allow Californians to Taste Beer?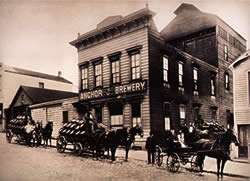 File this under: Good news that it's happening. Bad news that it's stuff like this wot counts as a victory for freedom in 2011. 
California's state senate has voted unanimously to reclassify breweries under the same regulatory apparatus that now applies to wineries with tasting rooms. This would allow brewers to open foodless tasting rooms and avoid restaurant-level regulation. Golden State Liberty hips us to this coverage by Michael Gardner in the San Diego Union-Tribune: 
Current law bars breweries from opening a tasting room unless the facility meets all of the more-stringent health and safety codes that govern restaurants and food production facilities. Those include cleaning equipment, certain types of flooring, sinks, paint, plumbing and other measures.

If signed into law, the measure would change that so that craft beer makers are exempt as long as food is not served. That also will put breweries on an even keel with wineries, which have enjoyed an exemption from restaurant-style rules since 1985. 
The legislation is awaiting the signature of Gov. Jerry Brown, who as Gardner reminds us "prefers pinot grigio over pale ale." I may read the bill and update later. My main curiosity is how this works with county and city health bureaucracies, which seem to do the real regulatin' in these matters. In any event, cheers.