L.A. Transit Spends $5 Billion to Decrease Ridership
Los Angeles County's Metropolitan Transit Authority has approved a massive new subway extension that will cost at least $5.15 billion and almost certainly decrease the number of people using mass transit.
The project will break ground in 2013, and it won't even fulfill the "subway to the sea" pipe dream of America's worst mayor. From the L.A. Times' Howard Blume and Dan Weikel:
MTA staff had recommended the 9 1/2-mile route to the veterans' hospital because of higher ridership projections. The estimated cost of that option is $5.15 billion.

Four other options were under consideration by the board, which included Mayor Antonio Villaraigosa, who has stressed the need for a Westside "subway to the sea" throughout his tenure as mayor.

Those included a nine-mile extension from the Wilshire-Western station to Westwood-UCLA; a 12-mile alignment to the beach in Santa Monica; a route to the veterans hospital campus plus a spur to West Hollywood; and a 12-mile link to Santa Monica plus the West Hollywood spur. The estimated costs of the projects ranged from $4.2 billion to $9 billion.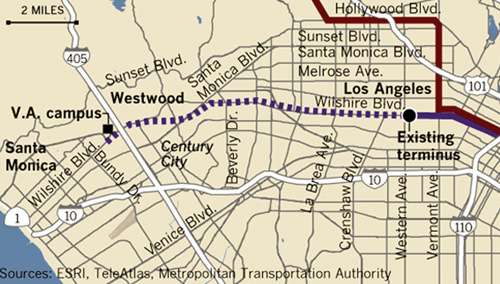 As you can see from the map, this line will take off from a spur of the existing Red Line -- the rail project that can fairly be said to have destroyed mass transit in Los Angeles. In addition to incurring vast cost overruns, the Red Line has suffered from chronically low ridership and depleted the bus service that even today serves more than three times as many customers as the entire L.A. rail network (which includes Blue, Gold, Green and other fancy lines).
To get a sense of how few people will actually ride this pig, consider how crappy ridership is on the Red Line right now. It's not easy to track ridership growth or contraction on the rail lines because the MTA -- in a search for "meaning" -- finagled its statistics a few years ago, eliminating historical information and replacing it with this disclaimer:
* Beginning in December 2007, data received from newly installed Ticket Vending Machines on the Red, Green, and Blue Lines made it possible to begin calculating ridership with much greater accuracy than previously. As a result, it is difficult to find meaning in comparing ridership estimates made prior to that time with the current and extremely accurate estimates.
I used to keep track of rail ridership in the 2006-2008 period, and the shape of the curve was unmistakable: After peaking in the early part of the decade, Red Line ridership followed a herky-jerky path downward. I'm not saying MTA got rid of its old stats to cover up that embarrassing trendline.
But it's interesting that this 2001 article has ridership nearly doubling over less than one year to 120,516 daily boardings. Although the MTA's own stats show Red Line ridership essentially flat from year to year, it now claims 148,214 daily boardings. That's a 23 percent increase over a decade, which means that even if the Authority is fudging its stats, they still suck.
But the full destructiveness of the Red Line comes across when you consider that every mile of rail service MTA adds actually reduces overall transit use in L.A. County. Rail grows at the expense of the bus lines people actually use. Bus fares have been hiked twice in the last three years, and MTA last month announced another cut to bus service, eliminating 4 percent of its bus lines.
In fact, since construction of the rail network began in 1985, L.A. County's population has grown about 35 percent, but overall MTA ridership is lower today than it was in 1985.
You don't hear a lot about this because nobody -- except for a few gadflies, the left-of-Hugo-Chavez Bus Riders Union, and me -- ever speaks up for people who take the bus. The rail dream unites developers, contractors, politicians, smart growthers, limousine liberals, civic-minded billionaires, yuppie scumbags and every other vile L.A. species in a grand vision of turning the City of Angels into New York West.
Because you can always count on a commie to have a good head for business, I called up the Bus Riders Union and got the following summation from organizer Eric Romann: "The 20-year experiment with rail has been a failure. If you go back to 1985, L.A. had no rail system, just buses. And we had more people using public transit than use it today. And they spent more than $8 billion over that time. They spent all that money and we have seen a drop in transit use. The one time they saw an increase in ridership during that time was when our civil suit forced them to cut fares and expand bus lines."
Leave aside the obvious points that the funding is not there; that the city, county, state and nation are all bankrupt; and that the project will disrupt one of L.A.'s busiest commercial districts for the better part of a decade. The best argument against the subway-to-the-VA is that it will be another screwing of poor people.
Nobody who claims to be a progressive can honestly support rail construction. But where rail is concerned, honesty always takes a back seat to delusional self-satisfaction. Dig the comments here, wherein the cream of L.A. Times readers go on about how this rail extension will finally get them to do something they never do now: Actually ride public transportation.