Backpage.com Calls Blumenthal's Bluff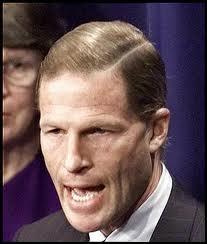 Yesterday Richard Blumenthal, the Connecticut Democrat who seems to believe that crusading against prostitution will help him win a seat in the U.S. Senate, proudly led a pack of 21 attorneys general who demanded that Village Voice Media's classified ad site Backpage.com follow Craigslist's example by shutting down its "adult" section:
Adult services sections are little more than online brothels, enabling human trafficking and sexual exploitation of women and children. Because backpage cannot properly police adult services, the section should be shut down immediately. Backpage has a moral—if not legal —obligation to purge ads that promote trafficking and sexual abuse of women and children.
Blumenthal continues to conflate consensual sex between adults with rape and child molestation, lest the public think he is the sort of bluenosed busybody who is haunted by the fear that someone, somewhere is getting a happy ending from a masseusse or more than a chaste peck on the cheek from an escort. He talks about "human trafficking" and "sexual exploitation" to cover the fact that he is seeking to suppress speech that offends him because it brings to mind sex or hire. Yet he implicitly acknowledges that he has no right to do so. When a government official lectures a business about its "moral obligation," you know he does not have a legal leg to stand on. Worse, as I noted in a column earlier this month, fighting prostitution is not even part of Blumenthal's portfolio as Connecticut's attorney general, a job that is limited to civil matters.
Backpage.com called Blumenthal's bluff:
Backpage.com is a legal business and operates its website in accordance with all applicable laws….Backpage.com is disappointed that the AGs have determined to shift blame from criminal predators to a legal business operator in an apparent attempt to capitalize on political opportunity during the election season.
Blumenthal responded:
I am deeply disappointed by this unfortunate and unfounded resistance to taking common-sense steps toward protecting women and children. I am hopeful that the company will reconsider its resistance and do the right thing. I will consult with my fellow attorneys general and consider possible next steps.
He could try stamping his feet.