L.A.'s Automotive Bailout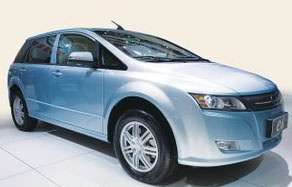 In the Los Angeles Business Journal, Alfred Lee tells the story of a Los Angeles sweetheart deal that would be worth reading even if I weren't quoted in it.
The city's successful courtship of the Chinese electric car manufacturer BYD is expected to bring between 46 and 102 jobs, with a total city subsidy of $5.2 million—a taxpayer hit somewhere between $51,000 and $113,043 Per job. In the traditional manner, this deal became steadily less attractive as it got near to closing:
When the company's move was announced in April, a press release issued by the city said that BYD expected to create "150 jobs throughout 2010 and 2011." A June staff report by the Mayor's Office also projected 150 to 200 jobs by the end of 2011. But recently that number has been pared down: A July 22 report by the Community Development Department projected at least 46 new full-time jobs by the end of 2011, and approximately 102 by 2013.

[First Deputy Mayor Austin] Beutner denied that the jobs projections had changed, calling them "imprecise by nature," and said that he expects BYD to exceed 102 jobs. He also said BYD's presence would create 700 to 800 other jobs in the marketplace, including suppliers, service technicians, and installers of solar panels or charging stations.
Others say that, within the parallel universe of business incentives by cities, this deal isn't the worst:
The package has drawn support from the Los Angeles Area Chamber of Commerce, the city's most influential business group. Chamber Chief Executive Gary Toebben said it's unrealistic to expect the city could attract such a business courted by other areas without some incentives.

"Some people in Los Angeles may use the term 'generous,' but anyone who is critical of this incentive package probably has not seen the kind of incentives and the red carpet rolled out in other states and cities," Toebben said.
My purpose in this article was to damn the whole deal from a free market perspective, and I delivered: It's infuriating that cities are still flushing money down the specific-business-incentive drain when they could be drawing more jobs just by getting out of the way of all businesses—cutting taxes, eliminating permitting, relaxing regulation, getting rid of zoning restrictions, and all the other things politicians hate to do because they allow real prosperity rather than generating a press release about how the government is helping the economy.
But with great regret I must concede that Beutner is right about something: As relocation bribes go, this one is probably at the less awful end of the spectrum. And that's the real problem.